---
Deng Adut: from child soldier to 'Prince of NSW'
'I have been in Australia for 19 years,' said Deng Adut proudly. 'That's 19 years of peace, 19 years of doing everything I can, 19 years of trying to get rid of my past. I am growing bold.'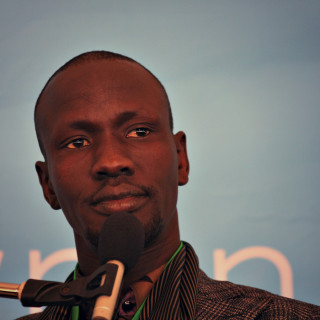 Adut, defence lawyer, refugee advocate and 2017 NSW Australian of the Year (an honour which he described as being the 'Prince of NSW'), was in conversation today with Ben Mckelvey, writer, journalist and co-author of Adut's biography, Songs of a War Boy.
As his biographer, Mckelvey knows Adut's life story well. But before they began to unpack his tale, Mckelvey wanted Adut to give the audience some context on what his life is like now.
Adut described his work as a lawyer, as a refugee advocate, and his core passion: the care and protection of children. He visits schools weekly to support children who may be struggling with learning difficulties or experiencing traumas in their everyday life, and believes that nobody can look after children like their parents can.
There is a good reason for Adut's dedication to the welfare of children: from the age of six until he was rescued at the age of 11 by his brother, Adut was a child soldier for the Sudan Peoples' Liberation Army.
In 1987, he had been brutally removed from his mother and village in South Sudan, and marched to Ethiopia with a group of 30 other boys from his village in terrible conditions. There was no food, they wore no shoes, many died or were badly wounded.
'I saw and experienced terrible things, I lost my mind, twice.' After 4 years, Adut managed to escape from Ethiopia and travelled back to South Sudan, where he became a displaced person within his own country.
'South Sudan was never my country,' Adut said firmly. '[The government of South Sudan] used and abused us, and dropped bombs on us. A country should look after its people.'
So Adut joined with the anti-government forces. But, after his platoon was sent on an assault against a unit with fixed machine guns, Adut was seriously wounded, and treated at the hospital, until rescued by his brothers and taken to a Kenyan refugee camp.
'That bullet saved my life,' Adut said. 'Most bullets are cut off at the end so the exit wound kills you. For some reason, my bullet was intact.'
His brother convinced Adut to apply with him for refugee status in Australia and in 1998 the Australian government accepted them both as refugees. Adut was 14.
'I was remade in Australia', Adut said, 'but I had to get used to how things work here.
'When we arrived, we were taken to Blacktown in Sydney, where I had my very first proper meal – at McDonalds. I ate the burger, wrapper and all, and nearly choked, much to my brother's amusement.'
#byronwf2017 Deng Adut Prince of NSW 2017 – a fair go is essential in life, and I will practice it for the rest of my life.

— Jeff Clark (@Qorgh) August 4, 2017
Adut's brother John, despite being the first Sudanese person in Australia to get a degree, was never able to get work, and was forced to return to South Sudan, where he was killed when war broke out in 2013. Adut lost 17 members of his family that year.
But Adut stayed and has become a strong advocate for refugee support.
Culture shock for refugees is something that needs to be addressed. Adut said that in his work with refugees, he tells them: 'you must learn about the culture of Australia, let your past go and adapt to your new country if you want to make a new life here.'
Sara Runciman is a student at Southern Cross University, studying a degree in Digital Media and Communications.
---
Southern Cross University Reporters