---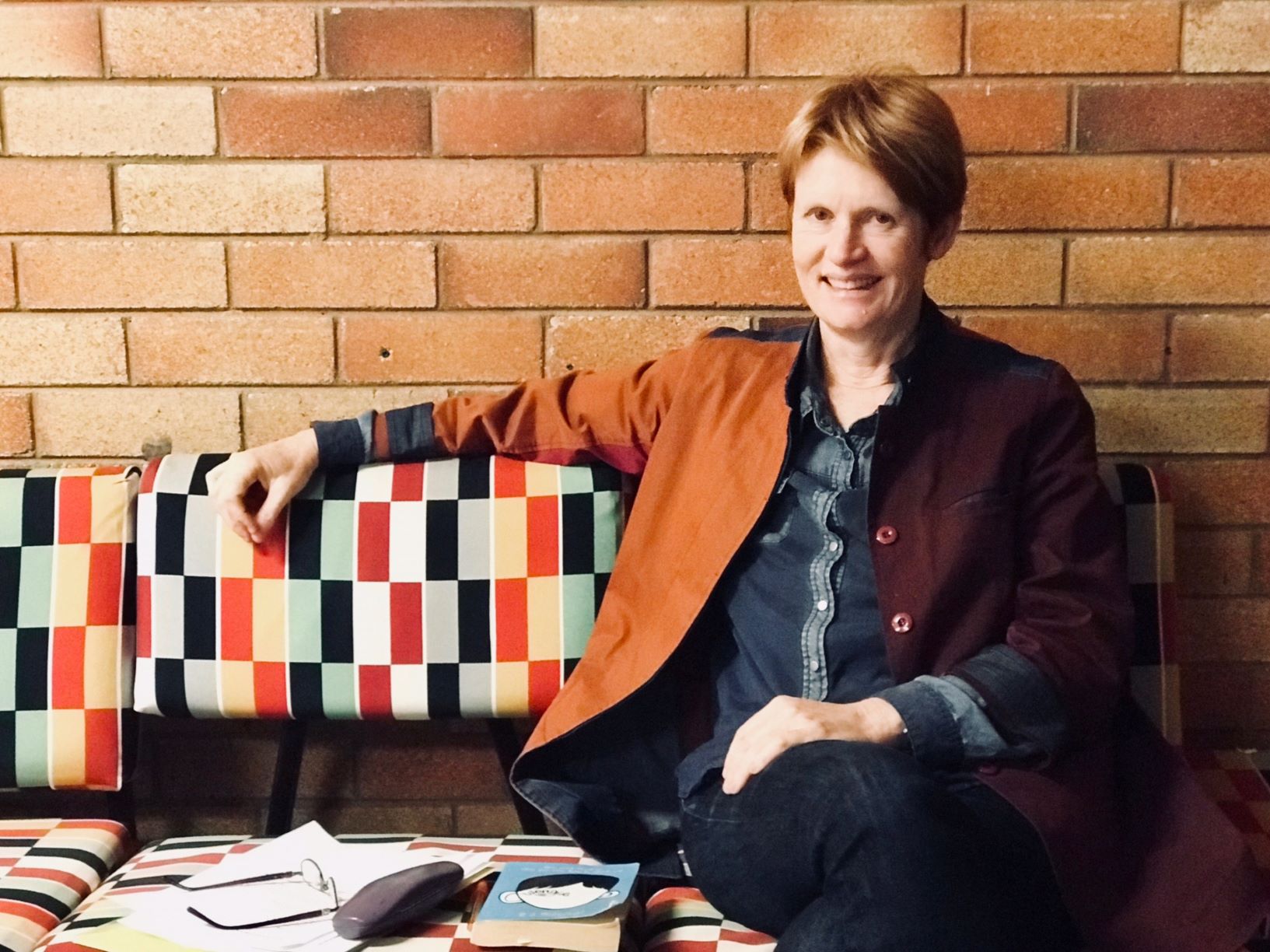 ---
Dr Jesse Blackadder was an international award-winning author of fiction and served on the Byron Writers Festival board from 2011 until her death in June 2020. Jesse conceived the idea for StoryBoard in 2015, which at the time of her passing had reached over 27,000 young people. Friends Sarah Armstrong and Alan Close pay tribute to her legacy.
It's hard – it's almost impossible – to believe that we'll never again see Jesse as so many of us remember her, in her element at Byron Writers Festival, striding purposefully between marquees in one of her fabulous colourful coats. She was such a familiar sight in her many roles at the festival – chairing panels with her trademark warmth and humour, greeting writers, chatting to readers and drawing new writers into the fold. She represented the best of what Byron Writers Festival strives to be, inclusive, passionate, colourful. She was in so many ways, the face of the festival.
Director Edwina Johnson says, 'Jesse leaves an extraordinary legacy, not least the wonderful StoryBoard program which has inspired so many young people to read and write. Jesse emanated joy and drew out the beauty and potential in everyone she met. We will miss her dearly.'
Friend and fellow board member Marele Day adds simply, 'Jesse made the impossible happen.'
StoryBoard is perhaps Jesse's greatest legacy. She had long dreamt of running a creativity and literacy program for kids, inspired by writer Dave Eggers' 826 Valencia project in San Francisco, or the Story Factory in Sydney. In parts of the Northern Rivers, she discovered, as many as 1 in 3 kids live below the poverty line, but research shows if these kids are 'language rich' their opportunities to flourish increase.
Jesse landed on the idea of using a colourful bus to take local and visiting authors to run writing workshops in schools.
Edwina Johnson describes StoryBoard as Jesse's 'deep heart work', and it was clearly was. When announcing StoryBoard on her blog 'A dream with wheels' she quoted Kofi Annan, the former UN Secretary General, who said: 'For everyone, everywhere, literacy is, along with education in general, a basic human right… [it is] the road to human progress and the means through which every man, woman and child can realise his or her full potential.'
Her dream was to reach all children, not just kids who already knew they wanted to write, or who were gifted at writing – but all kids. She taught a pilot program for StoryBoard out of Lismore Public Library – a class that continues to this day. Jesse insisted that writing be fun. Her mantra was, 'The first rule of writing is there are no rules!'
One student's mother said of Jesse's class, it was there her son found his 'tribe' – other children passionate about reading and writing. 'Over time Jack went from a quiet, reserved boy who would not engage in conversation in class to a young man who would voluntarily walk up to Jesse and read her his stories.'
Since it began in 2016, StoryBoard has reached around 27,000 young people. The program has received fantastic support from both government funding bodies and the community, along with a flood of donations following Jesse's death.
StoryBoard also provided a chance for Jesse and her beloved partner Andi to work together – Jesse as teacher and Andi as support person and driver of the magical bus. Except that very swiftly Andi's role grew into a marvellous and wildly popular double act – Jesse and Naughty Andi. The kids loved them both.
Jesse was diagnosed with cancer in December 2019. Treatment proved unsuccessful and she spent her last days surrounded by loved ones at the beautiful Wedgetail hospice in the hinterland behind Murwillumbah.  Jesse died on June 10 2020.
Her death has brought great sadness to all of us who loved her, but has left us also with memories we cherish. Memories of colourful coats, cheeky humour, inexhaustible generosity and a friend whom we never doubted we were fortunate to have in our lives.
–
Donations received to our Children's Program Fund in memory of Jesse will go towards establishing the Jesse Blackadder Award, an annual writing prize for primary school students. It will launch in 2021.
We have also added a new primary school category to our existing annual writing prize, the Susie Warrick Young Writers Award, open to Stage 3 primary students in memory of Jesse.
To apply click HERE – submissions close Friday 18 September, 2020
---
---