---
Bunyarra Dancers open 2017 Byron Writers Festival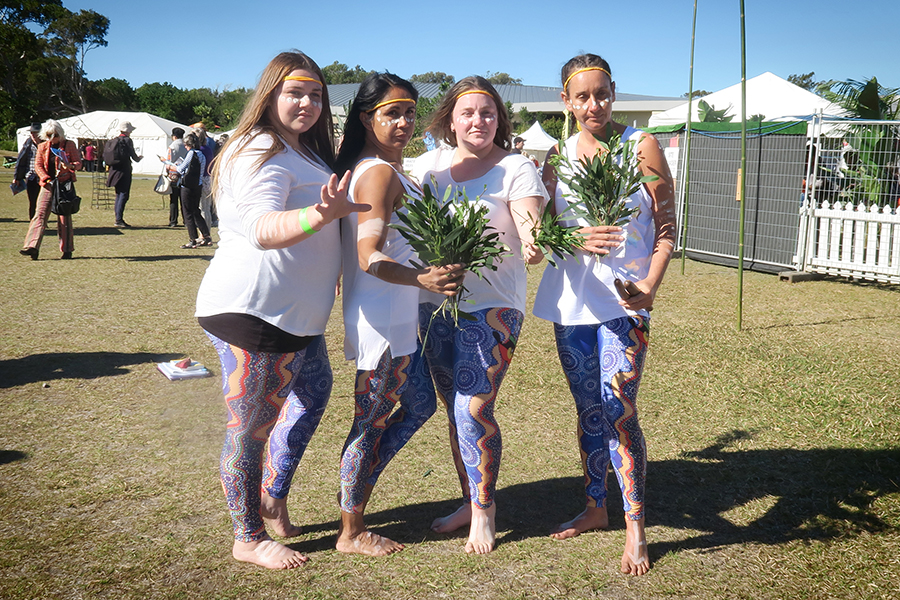 Elements of Byron was slowly coming to life as the Bunyarra Dancers, led by Nikolla Clark, kicked off the Writers Festival with Welcome to Country. The site was bathed in sunlight with a brisk wind blowing off the lake.
The festival gates had opened at 9am and attendees were navigating the sprawling site, hurriedly finding their seats for the first sessions at 10am. As the grounds filled, people gathered around the large letters displaying the festival hashtag for their obligatory selfie.
But as the Welcome to Country ceremony began, a hush fell over the crowd. Bunyarra's Nikolla Clark explained that their first dance was about "bringing in the good spirits and taking out the bad". Surely a good way to start a festival.
The dance began with the women (Kaitlyn Clark, Delta Kay and Belle Budden) walking in a circle making a shh'ing sound. The quietness of their singing, combined with the silence of the crowd created an eager energy, foreshadowing the anticipation of stories and discussion to come during the festival.
During the third dance, about the wetlands and spoonbill birds, a magical moment occured when a flock of birds rose from the lake behind the festival and flew over the dancers. The dance, which tells of the importance of and pays respect to the wetlands, ended with a cheer from the audience.
The crowd swelled as the women moved through their cycle of seven dances. A good thing as one dance included crowd participation, counting to five in language and dancing in an upbeat fashion. Other dances from Bunyarra told stories of the willy wagtail, the emu and then the farewell dance wished the crowd goodbye like the tides of the ocean.
The dancing concluded with a large cheer and a humble bow from the dancers. The crowd dispersed, eager to get to their first session and the 2017 Byron Writers Festival was underway!
Rory Banwell – @rorybanwell – is a Bachelor of Media student at Southern Cross University.
---
Southern Cross University Reporters