---
Book Launch: No Fixed Abode – Stories from streets around Byron
Byron Community Centre and Byron Writers Festival have collaborated to create No Fixed Abode, a book of photos and stories that give a face and context to homelessness in the Byron Shire.
'There are many ways that that a person can become homeless, but there are common denominators. For many people, their home is not always safe. For a person to feel more safe on the streets than in their own home signifies serious problems in our society, the lucky country, the home of the fair go.'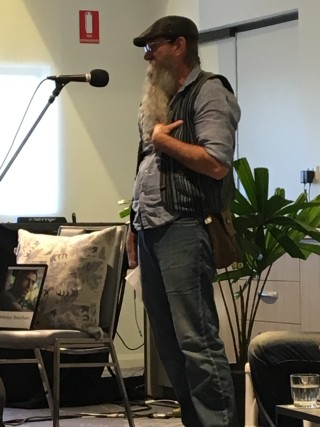 So said Dr Gregory Smith, who wrote the foreword for No Fixed Abode – Stories from the streets around Byron, and launched the book to a packed audience at the 2017 Byron Writers Festival.
Smith, a Social Science lecturer at Southern Cross University, has had intimate experience with homelessness, having survived institutional care in the 1960s and then spent 20 years living as a hermit in the New South Wales bush.
Smith was 'deeply honoured and humbled to launch this book on the behalf of homeless people in the Byron Shire, and by extension, the homeless people of Australia. I would like to say "thank you. I see you".'
'Homelessness is a hard, hard slog,' Smith told the audience. 'You're always tired, you're always hungry. Everyone thinks the worst of you. The only thing that makes one day different from another is that some are hot, some are cold, some are wet and some are dry.'
The aim of this project is to build connection and empathy for homeless people, not just in the Byron Shire, but to shine a light on homelessness everywhere. After all, we're all just people.
Sara Runciman is a Southern Cross University Bachelor of Digital Media and Communications student. 
---
Southern Cross University Reporters