---
Politicians seek 'order in chaos but breed conservatism'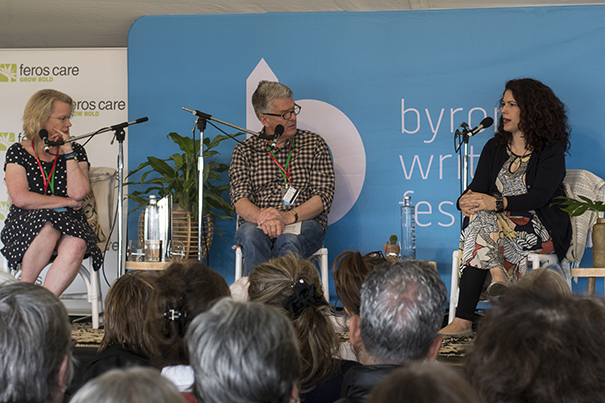 Do our current politicians fear change, or are they too tied up in party politics to carry out their ambitions?
These and many other questions facing modern Australian politics were on the agenda in the Australia: Still Lucky session with social researcher Rebecca Huntley, author of Still Lucky, the  Australian Financial Review political editor Laura Tingle, chaired by journalist David Marr.
Australian parliament is more diverse than ever, with more women and more culturally diverse representatives. But it was agreed by the panel early on that it is still not necessarily representative of our society.
Further, Tingle says politicians are becoming increasingly disconnected from the expectations within the electorate.
Tingle suggests Turnbull & his ministers have come to the recognition that Australian's want a bigger role played by government #Byronwf2017

— Rees Quilford (@destinationq) August 4, 2017
'[Politicians] think "if we do it this way we will control the agenda", but it doesn't work like that," she said. 'They are trying to find order in chaos, which leads to conservatism.'
According to Tingle, the current government are 'utterly constipated' on two issues: energy transition and same-sex marriage.
Subsequently the public are constantly raising questions of  'if they can't move on these issues, what can they do?'.
But does our politicians' fear of change contribute to such inactivity?
Tingle said that as individuals, politicians do not fear change, 'they have great ambition, but between that and the process, it all falls in a heap', with the constant motivation to gain marginal seats and avoid controversy.
Huntley added that the 'political individual collapses into the complete conservatism about running a day-to-day political party'.
However, there is also an increasing amount of fear within the population on issues such as immigration, and Huntley said that from her observations these fears dart off in many directions.
'On issues of immigration we're terribly anxious…but extremely supportive of the idea of multiculturalism, Huntley said.
When you look closer, Huntley said the main concerns surrounding immigration within the community is that of disruption to social cohesion.
However, the idea of fairness for Australians is a 'double-edged sword,' according to Huntley.
"Australians think they're fair when they abuse queue jumpers…like we're all lining up for a jam donut!" @RebeccaHuntley2 #ByronWF2017

— byronwritersfest (@bbwritersfest) August 4, 2017
'We demand an insane level of patriotism from asylum seekers and Muslims that we would never indulge in.'
In contrast, on things like the National Disability Insurance Scheme (NDIS) and education, there is overwhelming support.
Huntley recalled the most insightful and honest words of a migrant during a focus group, who was perplexed by the notion of Australian society being fair, saying "you can't be a fair society if the government gives heaps of money to private schools".
Tingle added that the Coalition is not equity based, and perhaps this filters through.
'What drives politics is just getting over the line,' Tingle said.
However, as in her book, Still Lucky, Huntley resolved that we are luckier, and do have more in common than we think.
Karlyn Major is a Southern Cross University Digital Media and Communications student. 
---
Southern Cross University Reporters