---
Travel
The Festival site is located at Elements of Byron, approximately 5km from Byron town centre. Access is by train, shuttle bus, car or bike.
---
Festival location
Elements of Byron Resort
144 Bayshore Dr, Byron Bay NSW
View location in Google Maps
The Festival encourages all patrons to use public transport if possible. A shuttle bus and train service will be operating between Byron CBD and the Festival site from Friday 2 – Sunday 4 August.
Train and Bus Route Map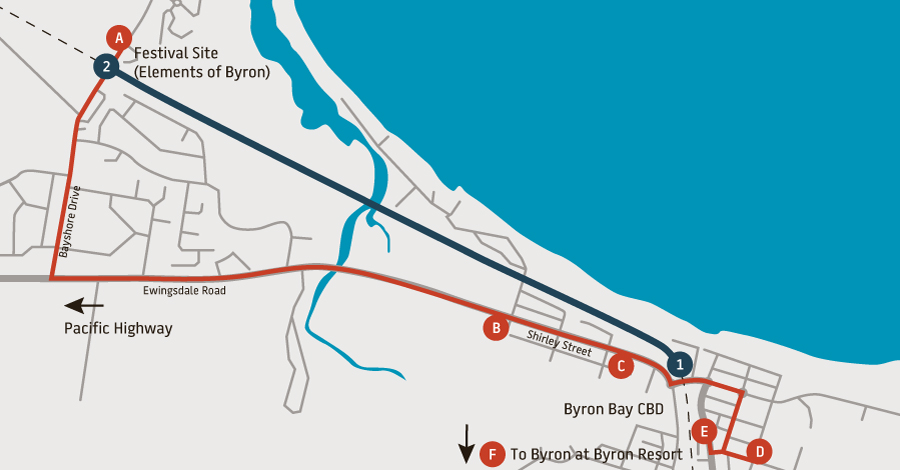 Train information
The new Byron Bay Solar Train (blue line) runs from Byron Bay to North Beach Station at Elements of Byron Resort, where the Festival takes place, for a cost of $4 per one-way journey. The Byron Bay platform (1) is located on Shirley Street in Byron Bay CBD between the First Sun Caravan Park and Simmos Caltex Service Station. The drop-off platform (2) is approx. 300 metres from the festival site. Trains will run Friday, Saturday and Sunday between 8am and 7pm. A one-way trip takes approximately 15min.
Shuttle Bus information
A regular Go Byron shuttle bus service (red line) to and from the Festival site will run Friday, Saturday and Sunday between 8am and 5.30pm.
Cost: The cost is $5 each way, paid directly to the driver.
Frequency: The shuttle bus will circulate every ½ hour throughout the day. You will need to hail the driver kerbside: they will not automatically stop, nor are we able to give you an exact time as it will be dependent upon pickup and drop offs.  Feel free to call to see when the next shuttle is due on 02 66 855 008.
When to wait: You should be waiting at least 1 hour prior to your session time.
Pick-up-points
(B & C) Shirley Street (opposite 'Break Free' Apartments)
(D) The Atlantic (Marvel Street)
(E) Byron Bay Visitor Information Centre (Jonson Street)
(F) Byron at Byron Resort (77-97 Broken Head Road)
Car
The Festival car park opens at 7.45am. Elements of Byron is located at the end of Bayshore Drive, approximately 5km from the centre of Byron Bay. Car parking on site is limited. If driving we recommend arriving 45 minutes before Festival entry.
Taxi
For a taxi or maxi taxi to the Festival our preferred partner is Go Byron
Bike
If you are planning to ride a bike, please ride safely and be particularly mindful of merging traffic, parked cars and pedestrians. Bikes can be parked and locked to the safety fencing near the Festival entrance where signposted.
Safe riding tips (from Transport for NSW)
Always wear an approved bicycle helmet, properly fitted and fastened
Always obey the road rules, including traffic lights, stop signs and give way signs
Allow pedestrians a metre of space on shared paths, where possible.
Ride in a predictable manner so that other road users do not have to react suddenly to your movements
Give hand signals when changing lanes or turning left or right
Make yourself visible by wearing bright, light or reflective clothing
Plan your route using quieter streets, bicycle paths or shared paths
Always be in control of your bicycle. It is an offence to ride with both hands off the handlebars, feet off the pedals or to carry anything that prevents you from having control.
Travel
Byron Bay is located in the Northern Rivers of NSW, and is accessible by Air, Bus and Car.
---
Plane
Ballina Byron Gateway Airport is the closest to Byron Bay (30 min drive). Other airports include Gold Coast Airport (approx 45min drive) and Brisbane International (approx 1h45min drive).
Airport Transfers
Our preferred Airport transfer service is Go Byron. To book a transfer from Ballina or the Gold Coast airport  please click here or phone (02) 6620 9200.
For transfers to and from Brisbane Airport, please visit brisbane2byron.com
Train
Countrylink provides a rail/coach transfer service to Byron Bay everyday. For reservations and information, phone 132 232 (6-10pm 7 days) or www.countrylink.info
Bus
Byron Bay is serviced daily by interstate coaches. For information contact Greyhound or Premier.
---