StoryBoard is a travelling creative writing program fostering the next generation of readers and writers in the Northern Rivers.
Jump on board the StoryBoard express and join us on an adventure into the heart of creative expression.
StoryBoard's diverse and inspiring programs are delivered to schools and students across the region. We run both in and out-of-school workshops led by exceptional authors and illustrators who excite and engage students through the art of storytelling.
We've travelled far and wide in our bus, reaching tens of thousands of students from Kyogle in the west, Kempsey in the south and Tweed Heads in the north.
Browse our workshops on offer below and discover some of the wildly imaginative stories written by our talented young writers.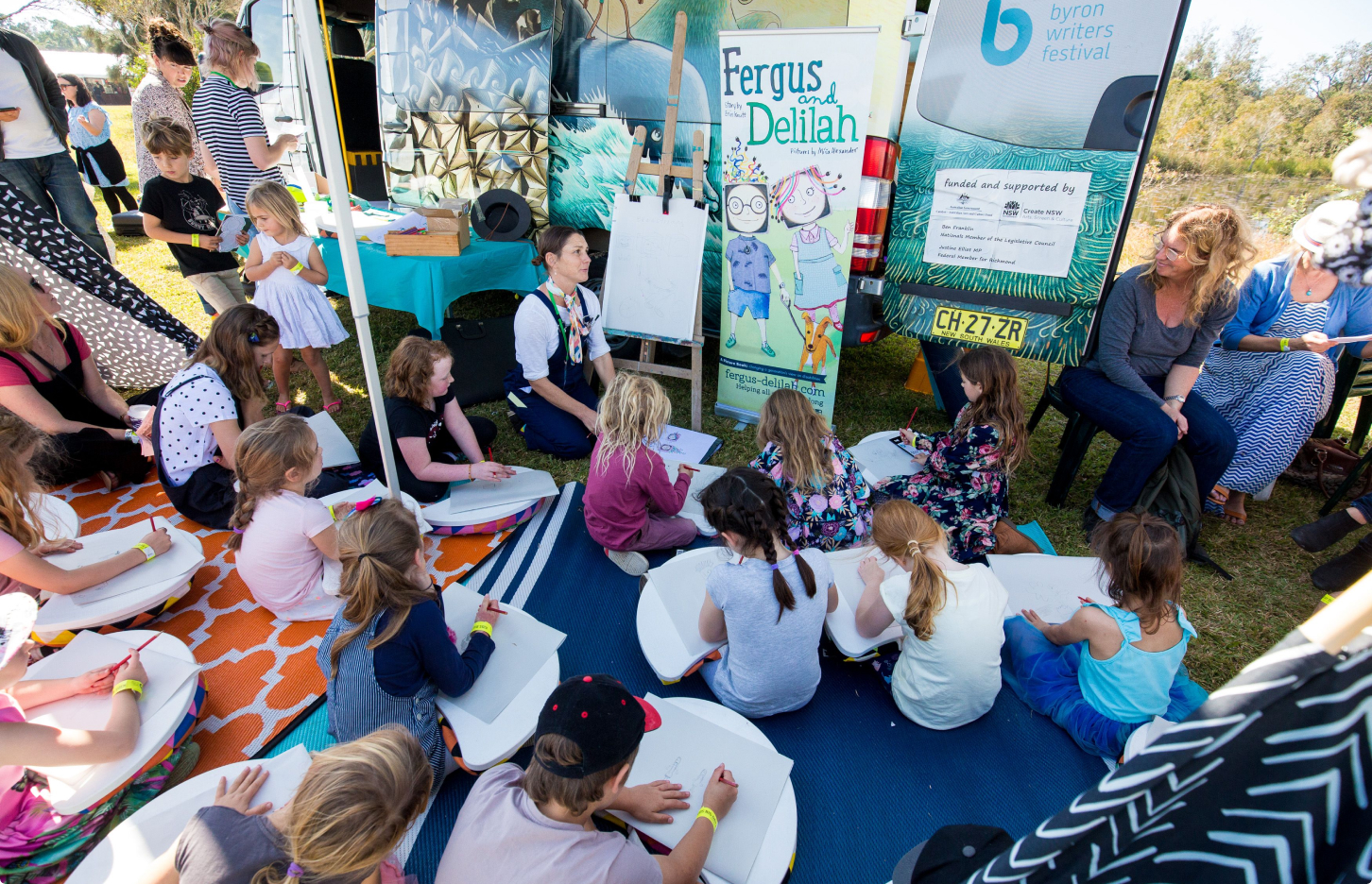 School Workshops
StoryBoard's school workshops are engaging and exciting. Our outstanding professional authors and illustrators facilitate a year-round program of school visits for students, all with connections to the Australian Curriculum. Our workshops inspire young people to read and write. They improve communication and creativity skills and build self-confidence  and improve learning and literacy. Importantly the workshops encourage young people to open their imaginations and be bold in their creative writing.
Browse School Workshops
Masterclasses
StoryBoard Masterclasses, run by professional authors, provide ongoing, regular sessions in which young writers develop and hone their writing skills throughout the term.
The free Masterclasses run in the evenings at Byron Bay, Lismore and Ballina. During the 90 minute workshops participants explore a diversity of writing forms and genres. They free-write, plan, execute, edit and revise their work, often with the aim of bringing a singular idea from concept to completion. In some cases, the final pieces are published as an Anthology.
Jesse Blackadder, who inspired and created StoryBoard in 2016 insisted that writing be fun. Her mantra 'the first rule of writing is there are no rules' still applies to the Masterclasses today.
HSC Writing
A full-day workshop for HSC Extension 2 English students examining each of the requirements of the syllabus and providing a 'plan of attack' for ensuring students have all the information and strategies they need to create wonderful Major Works.
Elements of the Writing Process will include choosing the form, themes and voice, as well as how to approach the writing process using a systematic protocol of creation, evaluation and revision.
Browse HSC Writing
School Holiday Workshops
StoryBoard school holiday workshops are engaging and fun. Run by professional authors and illustrators the workshops inspire kids to be creative and bold in their writing and illustrations and help them to develop an understanding of narrative process and craft. 
Browse School Holiday Workshops
Meet some of our Authors & Illustrators
StoryBoard workshops are run by professional authors and illustrators and cover a range of narrative storytelling devices, strategies and concepts, each with connections to the Australian Curriculum
View Authors & Illustrators