StoryBoard is an initiative of Byron Writers Festival, a non-profit member organisation based in Northern NSW.
Byron Writers Festival presents a year-round program of workshops, opportunities and events, as well as the much-loved annual Festival held in August, which has run since 1995.
StoryBoard is Byron Writers Festival's major program for reaching school aged children (5-18 years). A committee of passionate writers and teachers steer StoryBoard's annual program with integrity, respect, creativity and adventure underpinning the program's direction.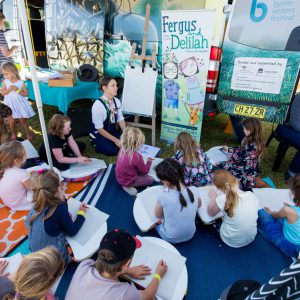 Our Vision
Our vision is that StoryBoard will foster creativity and literacy in thousands of Northern NSW kids for years to come, nurturing the next generation of readers and writers - young people who are excited about literature and creative expression, and who are empowered with the tools they need to create their own futures. 
What we do
StoryBoard runs free creative writing workshops for primary and high school students and teachers in the Northern Rivers region.
Facilitated by authors and illustrators, our student workshops are designed to improve communication and creativity, build self-confidence and improve learning and literacy outcomes. Our teacher development programs are for teachers looking to enhance their own creative writing education practices.
We reach schools throughout the region, particularly those that have socio-economic disadvantage. We also extend our reach beyond schools by collaborating with libraries, youth centres, festivals and other community partners.
Why we do it
We are passionate about the role stories, storytelling, ideas and debate have in shaping our culture. We believe StoryBoard helps young people to reach literacy levels that support and empower them to create their own futures and thrive.
Most importantly, StoryBoard is all about exploration, imagination and having a whole lot of fun.
StoryBoard is proudly supported by the NSW Government.