---
Are Western values under siege?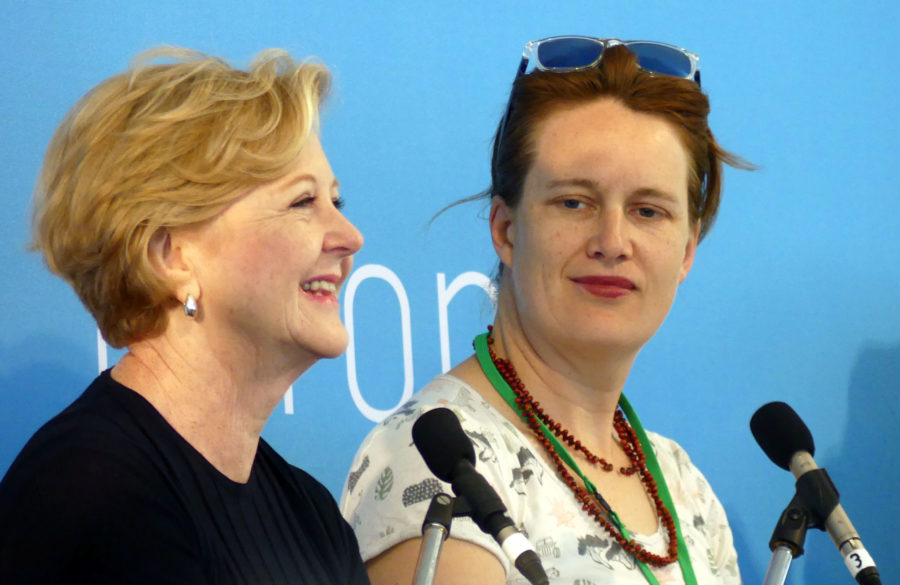 Right wing commentators like Andrew Bolt and Mark Latham like to claim that Western cultural values are under siege. But are they?
This Sunday morning session, supported by Southern Cross University's School of Law and Justice, brought together a panel of public intellectuals to chew over this question.
But firstly another point to clarify – what are these Western values that are supposedly under siege?
Session chair Paul Barclay nominated freedom of speech, equality under the law, and separation of church and the state as three key ones to focus on.
Clive Hamilton, author of Silent Invasion: China's Influence in Australia, wanted to make clear that what is spoken about 'are not Western values, they are universal values'.
The 'capacity' to promote freedom of expression 'is at the core of these universal values', Hamilton said.
Barclay asked what protections were in place for these values, and Gillian Triggs, president of the Australian Human Rights Commission from 2012-17, gave a shocking reminder.
Australia is the only democratic country without a charter or bill of rights. Very few are enshrined in our constitution and even then, the constitution only has a thin implication within it to protect those rights.
Instead, the Australian Constitution is constructed to maintain cohesion of the states and their federation.
Hamilton said that we therefore can 'only appreciate [universal rights] when we go away and we don't have it'.
Having participated in the 'hope and optimism' of the 1960s, Triggs believes the Australian government is 'ideologically opposed to rights', even though she did want to make clear that Australia is strong in its 'fair and free election' and independence of the judiciary.
Triggs supported this by citing that data that shows 10 times more indigenous deaths occur now, since the findings of the Royal Commission nearly 20 years ago and that Australian women have gone from fifteenth to forty-sixth on the world economic forum.
She is 'very concerned' about the conservative nature of the Australian High Court, and said she believes that they are no longer capable of making brave decisions like Mabo in 1992.
Australian historian Anna Clark, expanded on this, asking 'why do you [the populace] have to be brave to speak out?'
Triggs attributes the 'failure of court to stand up for human rights' to the 'creeping way' the Australian government undermines universal rights and promotes fear.
She gives the examples of the recent Foreign Interference laws, anti-association laws, and the restriction of media access to off-shore detention centres, where 140 children are still detained on Naru.
The laws are good on the surface, but their true repressive nature is expressed when the legislature is actually read, something the Australian populace needs to begin taking responsibility in doing.
Barclay asked the panel why they thought the Australian people are 'losing faith in the very nature of democracy'.
Triggs said that the Australian government no longer participates in nuanced discussion. The debate is too polarised, simplified, and of poor quality.
Clark said people were opting out.
'[They are taking an] anti-politics approach,' she said.
But Clark wanted to remind people that amid the increasingly partisan 'tone and tenor' of public debate 'that sometimes left is right and black is white'.
Barclay wondered if the advent of identity politics was 'muzzling what can and can't be said'.
Hamilton responded by pointing to the restrictions imposed by social culture, not just the law, expressing how universities can now be bullied out of hosting controversial speakers because they might 'offend'.
He said that if this might be the case for you, the simple answer is: 'don't go.'
Clark said that we must allow discourse and push for, and be okay with, 'gentle disagreement'.
In this way, the erosion of these democratic universal rights is a mix of the new vicious nature of politics, as identified by Hamilton, and a disengagement and rise of entitlement on the side of the general populace.
But Hamilton implored that we 'mustn't lose faith in the democratic process. It's all we've got.'
What we must do is regenerate it.
Jade Hurley is a Southern Cross University Creative Writing BA student.
---
Southern Cross University Reporters