---
Comedy: Is everything up for grabs? YES!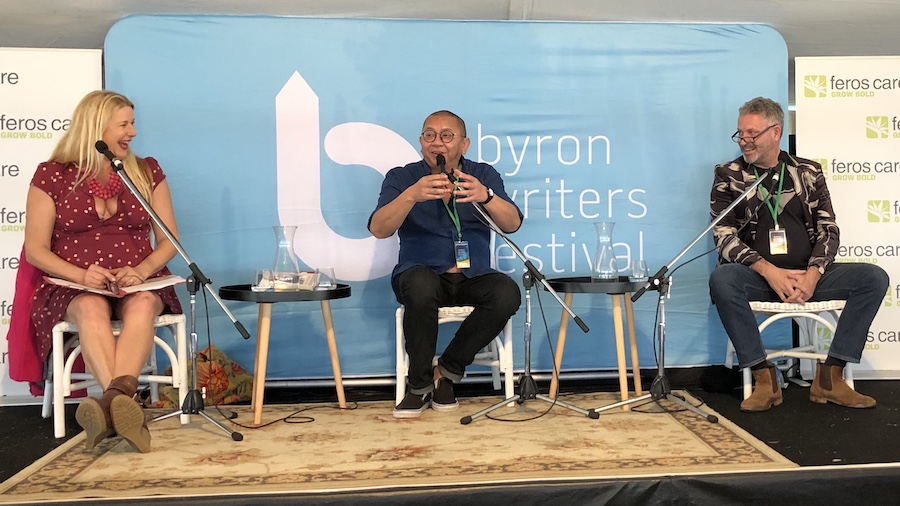 The Byron Writers Festival ended on a high Sunday afternoon as comedians Mandy Nolan, Hung Le, and Mark Swivel stirred up the crowd.
The local magpie, who had frequently visited the Feros Care marquee throughout the festival, knew what was good for her and stayed well away from the raucous humans.
So much laughter was had at this session that it is surprising that Nolan, who chaired the session, managed to weave in some rather serious questions. Although, it was difficult to tell if any of them were taken seriously.
Swivel, a lawyer, comedian and founder of The Together Party, and Le, author of The Crappiest Refugee, had some very interesting (albeit not safe for work) insights into the main theme of the session: 'Is everything up for grabs?'
Conversation quickly turned to politics and discussion of how certain politicians should not be 'rooting' so much, and how they are not just sexually 'unattractive', but 'repellent'.
Swivel explained that politics is not as fertile for comedy as it used to be, because there is an 'awful twitchiness' in politics, as well as all the corruption and lawsuits.
Quoting British philosopher and fellow Byron Writers Festival speaker A. C. Grayling, a 'problem with democracy' is what Swivel believes is stifling the current political atmosphere.
'More should be up for grabs,' Swivel said, and the fact that there isn't makes him feel 'incandescent with rage'.
Zoe Norton Lodge's absence from the line up made the male to female ratio of the panel 2:1 and possibly led to a disproportionate amount of conversation about male body parts.
Though, Nolan didn't hold back about them either.
The amazing Auslan interpreters deserve a noteworthy mention, having risen to the challenge of signing every filthy word thrown at them in this, and other rowdy sessions throughout the Festival.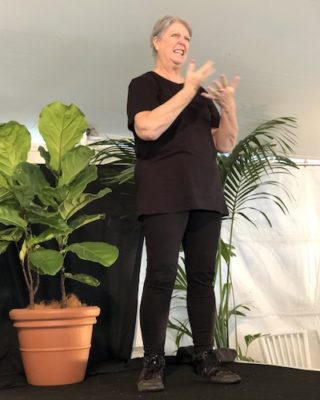 One Auslan interpreter, Leanne Beer was deliberately put to the test in this session, much to the audience's delight, signing words like 'enormous flaccid member' and 'hairy vagina'.
Considering the topic for this Sunday session was 'Is everything up for grabs in comedy?', the panel left nothing off the table, asking the audience for feedback as to whether certain things were funny or not.
It turns out that it's all funny, to someone at some point, but there are certain conditions that will make a joke work or not.
If a joke didn't work, Nolan explained, it could be one of several things: it was 'pitched wrong', the audience 'wasn't warmed up' enough, or it 'hit a sore point', which could be a cultural or a timing thing.
If it is a timing thing, 'it can always be fixed by saying "Too soon?,"' Le said. 'That always gets a laugh.'
And if the jokes still don't provoke audiences to split their guts with laughter, Nolan suggested putting them in a book called Jokes That Didn't Quite Work.
Le reflected on how the line 'you all look the same to me' got a laugh in Kenya after deliberately calling the country 'Uganda', but it was considered 'not funny' in India when he called their country 'Pakistan'.
He said some jokes 'eventually get a laugh 12 years later' and some jokes are so 'racially layered' that people don't understand them until they get home.
Le complained that 'people are too brittle nowadays'.
Nolan said, 'I want them, the stiff people' because the ones that don't laugh are the ones she aims for.
Swivel agreed that it becomes a goal to 'get them to crack'.
To try and describe Nolan's cross-eyed face with words, as she demonstrated how 'stiff people' look from her perspective, is beyond the scope of the English language.
This festival report also cannot capture the buzz and the endorphin-producing belly laughs of the session.
In order to experience that you really needed to be there!
So, make sure you get yourself to the next Byron Writers Festival in 2020.
Ali Rayner is a Southern Cross University Creative Writing student. Southern Cross University students have reported on Byron Writers Festival since 2010. Find out where a degree from Southern Cross University can take you.
---
Southern Cross University Reporters