---
Crowdfunding and marketing the way forward for self-published authors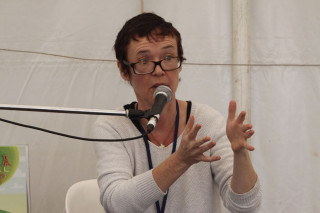 The self-publishing tent has been a must-visit for Byron Writers Festival 2016 attendees who are also writers.
The Festival has planned a series of sessions with industry professionals to help give budding authors advice on getting published.
One of these professionals is Roz Hopkins, who works as a publisher with her company Captain Honey.
She has also recently self-published a book with her co-author Jennifer Blay, called Mummy And Mumma Get Married.
She said that the first Saturday session would focus on promotion, as well as exploring the 'nuts and bolts' of marketing a book.
Hopkins said that 'crowdfunding' is also on the rise.
The session would discuss using crowdfunding platforms such as Kickstarter or GoFundMe.com as a way to fund self-published books.
Hopkins has advice for any authors looking to market their book.
'What you need to think about is who is your audience,' she said.
Hopkins said once they know that, then they know how to market their book.
Report by Jacqueline Munro, a Bachelor of Media student at Southern Cross University. 
---
Southern Cross University Reporters