---
Damon Gameau's hope for 2040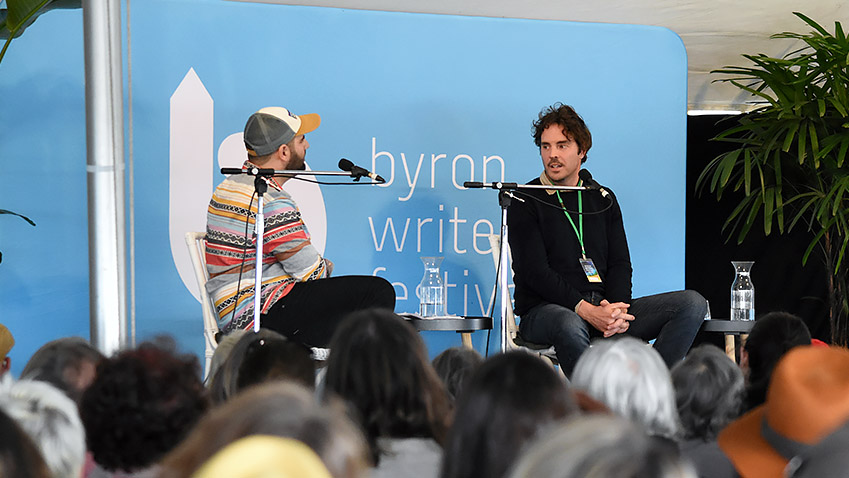 You probably recognise Damon Gameau from his movie, That Sugar Film. The actor/director/author is a better health and environment advocate.
His newest project is 2040, a documentary film about making environmental regeneration possible by the year 2040.
It has been blowing audiences' minds since it was released earlier this year.
'There is a shift brewing,' Gameau, told session chair Nathan Scolaro and the Byron Writers Festival audience late on Sunday. He was talking about the social movements appearing all around the world, a reaction to the evidence in rapid climate change.
Gameau said this 'shift' is what Buddhist scholar Joanna Macy calls 'The Great Turning'. It is the shift from a society built upon industry to a 'life-sustaining civilisation'.
Gameau believes this shift in society's attitude is definitely happening.
There is evidence everywhere. People are taking action all across the planet. For example, Ethiopia has planted '350 million trees in a day,' Gameau said. The audience cheered.
The purpose of 2040 is to 'counter what is happening, with what you want to happen in the future'. To be the change, however large or small, rather than doing nothing at all.
Gameau's view on the condition of the environment is antipodal to the paralysing doomsday voices. His film and its accompanying book is intended to inspire action, instead of only instilling fear with hard facts, and little to no solutions.
Because of the film's message to seek solutions in the crucial next few years, Gameau said 'the UN is going to show three minutes [of 2040] to all world leaders'.
When asked about the motivation of the film, he said 'I asked myself: how am I going to be able to tell this to my daughter?'
He said 'I feel concerned about our children', that they are being affected by the state of things, and the enormity of the situation, without seeing much change initiated by the adults at all.
Gameau wants them all to know that 'there are many good people taking action'.
The film's intention is to not entirely shy away from the hard facts, but also not solely focus on the doom factor. We must 'feel it at its depth, but also focus on the solutions'.
Some solutions include marine permaculture, which is talked about in the film.
Farming of kelp and other seaweeds is a positive step in the right direction, towards a planet with less emissions contained in the atmosphere, cooler oceans, and more environments for marine life.
Gameau calls seaweed the 'Sea Queen' because of its powerful carbon sequestration abilities, caused by its huge rate of growth, which is around one metre per day.
These are just a few of the many benefits of seaweed platforms for the environment and civilisation.
'Hope,' Gameau said, 'must be the motivation to keep going.'
His call-to-action is directed to writers, poets, artists and musicians. Because, while scientists have been telling the story, 'their language doesn't stir the soul'.
There is an intense need for creative people to 'tell the story', and an even larger need for people to have the 'time to dream' for a better future.
Aligning to this call to artists, a singer boldly stood in the audience and sung lyrics from one of her original songs.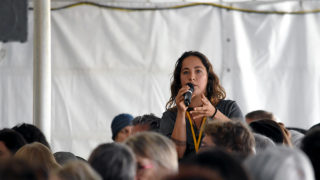 'No more need for greed and hunger if we respect the Mother's ways,' Olivia Rosebery sang. The alignment of her lyrics to the zeitgeist of the session was greatly appreciated.
Gameau returned to his theme of engagement: The society we are now 'should have a say in what happens' to the planet. We need storytellers and creative people to be that 'cry of re-empowerment'.
Gameau said he spent sometime in hospital in a room full of elderly. It was then that he took time to reflect on his current path in life and wrote 'a letter to his 85-year-old self'. Within it, he asked the question: 'Were you brave enough to tell your own stories, and no longer hide behind the stories of others?'
Throughout most of history, change only happened because the people took action. 'It never happened from the top down,' Gameau said.
The film 2040 is offering hope to those facing the reality of our society, to imagine a utopia for the future the way the past revolutions wished for 'a world without slaves' or 'equal gender rights'.
When asked by the audience what they could do to help, or make a change to their daily lives, Gameau suggested anyone interested could go visit his website What's Your 2040 and join The Regeneration movement, where you can activate a personalised plan of action, and begin making an impact locally or otherwise.
At the end of the session, Gameau said, 'I feel it with all my fibre that we're going to make it through this.'
Sarvah Rayner is a Southern Cross University Creative Writing student. Southern Cross University students have reported on Byron Writers Festival since 2010. Find out where a degree from Southern Cross University can take you.
---
Southern Cross University Reporters