---
Dr Space Junk takes off at Byron Writers Festival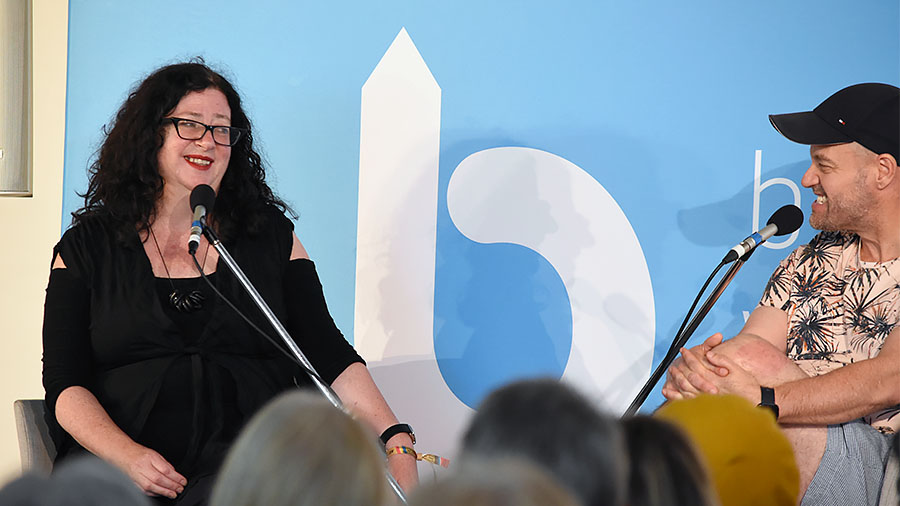 We tend to think about archaeology as an earthbound science, with its focus firmly turned to the past.
But when 'Dr Space Junk' landed at Byron Writers Festival for a session with chair Adam Spencer, we were asked to think about how archaeology fits into that great expanse beyond our atmosphere, and what it means for our future.
Dr Space Junk is otherwise known as Alice Gorman, an academic at Flinders University in the emerging field of space archaeology. Her recent publication is Dr Space Junk vs The Universe: Archaeology and the Future.
Space archaeology is, in Gorman's words, the 'study of how humans interact with space'.
She sees archaeology as similar to some space sciences because of their 'wondering about human existence, both future and past'.
This compatibility allows space archaeology researchers to combine cultural and scientific exploration with the history of human space travel.
Convincing people about space archaeology 'took a little' energy, said Gorman. 'If there was a whiff of aliens, people would dismiss the field of space archaeology.'
Gorman, who grew up on a southern NSW farm, spent plenty of time stargazing, and this inspired her from a young age.
She had always thought that 'the meaning of life was somehow connected to the stars.'
From a kindergarten age, she clearly remembered the Apollo 11 moon landing.
This scientific and politically driven moment in history went on to have a strong influence on her life and her career.
Gorman sees the moon landing is an 'archaeological and heritage site', an abandoned place with a lot of historical 'human presence', as well as a 'human absence'.
Flashing up on the screen above Gorman were images of the Apollo 11 crew conducting experiments on the Moon's surface, with mainly just their shadows, footprints and landing debris in the camera shots.
Without the context of the images to give understanding, the distorted shadows told 'a different story', perhaps about the loneliness and sadness of space.
One image did tell another story: it showed an astronaut holding a butterfly catcher, which was actually an experiment and not an attempt to catch moon aliens.
But for space archaeologists, those old moon landing images offer the most accurate insights for science writers like Gorman seeking to understand our human presence on our moon.
There are 'archival sources' and 'paper documents' which she uses for researching, but of course it is not the same as viewing the real thing.
Gorman faces the dilemma of humanity's continued impact on space because 'any abandoned human object [in space] is space junk'.
Along with approximately 4,000 functioning satellites orbiting earth at the moment, there are over 29,000 tiny bits of stuff just floating around amongst them.
Space junk orbiting earth varies in size from '10 cm to double-decker-bus-sized', but those figures don't include the unquantifiable amount of microscopic particles amongst them.
And all those 33,000-plus objects are cycling around Earth at roughly '7-8 km per second'.
With their 'imperfect and incomplete' data, space junk is becoming a huge collision threat to the working space stations, spacecraft and satellites, especially since 'only 60 percent [of satellites] follow guidelines to avoid contributing to space junk'.
The first time scientists became concerned about the space junk issue was back in 1979 when the United States' first space station Skylab reentered earth's atmosphere over Australia.
While the rest of the world was worried about the spacecraft's re-entry, Gorman said, 'Western Australians got on their roofs to watch the light show.'
Many in the Festival audience were surprised to learn that Australia was the third nation to launch a satellite into space, after the United States and Soviet Union.
Australia has somewhat 'forgotten our own space history', but with the development of the Australian Space Agency, we can now 'contribute with equal footing'.
This chance to take leadership may prove useful in the future for managing 'legal action on space junk' and creating an 'end of life plan' for satellites.
According to Gorman, 'space is the common heritage of humanity.'
Australia has history with space, and therefore a close 'heritage' giving us 'credibility' and 'advantage' in having an impact on what happens out there.
Sarvah Rayner is a Southern Cross University Creative Writing student. Southern Cross University students have reported on Byron Writers Festival since 2010. Find out where a degree from Southern Cross University can take you.
---
Southern Cross University Reporters