---
Picnic is packed, lashings of ginger beer at the ready, Timmy the dog is waving his tale and barking madly, and Julian tells everyone to buck up and hurry, it's time to go down to the sea. Yes, the school holidays have rolled around and the Famous Five are back together again and ready for their newest adventure.
Enid Blyton would, I hope, have thoroughly approved of the Five Writers, Five Towns, Five Days road trip adventure, taking Byron Writers Festival out to the regions, running free events for schools and communities in the Northern Rivers. Though she might have scratched her head at the five of us – an historical fiction and fantasy writers (Kate Forsyth), a slam poet (Miles Merrill), a genre hopping novelist (yours truly – but you can call me George), an extremely elegant beat novelist from Western Sydney, and a burnt out teacher with a fire in her belly for educational change (Gabriel Stroud). Plus our intrepid leader Zachary Jane, a tireless mix of roadie, driver, bookseller, author, chair/MC and all round holder-together of the thing.
First stop Coffs Harbour Library, with a large and enthusiastic audience of readers and writers who wanted to know EVERYTHING. Talking about beginnings – and each reading from the start of our works – we wooed them with 16th century Scotland, meandered through the origin of Hansel and Gretel. hit them in the guts with contemporary Liverpool and left them weeping with a description of one teacher in the classroom and her despair.
Anyone not weeping was only there for the spread, which was awesome. The librarians treated us like old friends and bought out lunch of the best salad in the world.
[Resident poet Miles is AWOL – apparently this is what the 555 poets do – a late entry to make sure they're noticed. He's arriving by plane this morning and we're planning the hazing ritual.]
Evening – Latitude 360 restaurant down at the Jetty and an intimate group that let us get up close and personal about where ideas come from, what drives you to write, if you choose the stories – or if they choose you. Luke says he doesn't even write stories – he wrote enough sentences to make half a million words and the publisher said yes, but cut it by 90% so we can publish a short book. That's the most amazing achievement on the table today I reckon.
Then back to the bar for a yarn about the meaning of literature, can it be revolutionary, why are we writing at all, and should we order another round before closing time.
Zac is starving herself (too busy to eat), there are lashings of champagne, and we're headed out for a scrumptious Enid Blyton breakfast this morning before being led, like lambs to the slaughter, to perform for children in the food court in a local shopping mall. More news tomorrow if I survive the experience.
Tonight – Mullumbimby at the Court House Hotel 6.30pm. Theatresports, conversation, reading, lashings of whatever you fancy.
Upcoming dates:
Brunswick Heads, Monday 1 August
Lennox Head, Tuesday 2 August
For all enquiries please call:
Zacharey Jane on 0432 922 381 or email [email protected]
Follow us on Twitter at #555roadtrip or visit us at Facebook The Five Writers Road Trip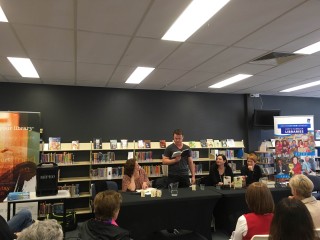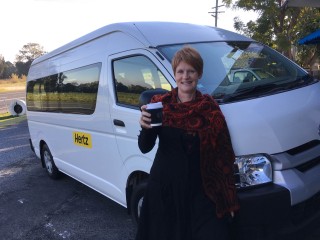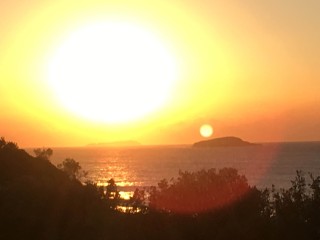 ---
anika