---
Greener Futures Writing Prize Winners
Byron Writers Festival, in partnership with Southern Cross University, is thrilled to announce the winner and runners up for the Greener Futures Writing Prize.
Entrants were asked to write a 500-word piece, in any genre, that imagines a world where climate change and its related challenges have been overcome.
Drumroll, please….
Here is the winner:
Pancakes for Breakfast, by Misha Fligelman
Picture this.
A city. Grey buildings climbing skyward. Traffic lights at intersections beeping, green, yellow, red. Train tracks tendrilled like web lines in growing arcs. But the roads are empty.
Picture this.
An outer suburb. Tree-lined avenues. Painted houses, manicured gardens. But the streets are empty.
Picture this.
The wind is whispering through an open window, pushing a low slung ceiling fan in slow, creaking circles. ABC blocks are stacked neatly on the floor, a wind up elephant still clicking in time. At the end of the hallway a bath is drawn, ducks floating in leisurely rings around the drain. Long tendrils of algae creep between the tiles, feasting on the unpolished grout. Toothpaste is caked and cracking, streaked across the blown out mirror, once a wedding gift from someone's great aunt. Opposite the sliding door a virgin laughs, white frosting smeared between her eyebrows, flowers caught in her hair. Beside her the man stands solemnly in place, cake balancing on a silver fork, held cautiously away from his suit and tie. Watching from its golden frame, is a baby, tufts of hair glistening wet. The woman holds him to her chest, pressed up against a tiny cross, nestled away from prying eyes. Down the stairs a toddler sits, legs dangling from the sides of a sling, smiling at the vacant lens of the camera.
In the kitchen the fridge light has gone out. Apples and grapes have blackened, are oozing against the plastic crisper, the lettuce long withered to desiccation. Giggles are trapped in the words on magnets, arranged around a joke. Against the far wall is a fireplace, performative wire woven across the glass screen. A remote sits balancing on the top edge of the mantle. On or off? it asks. Low, medium or high heat? it prompts. There are shells and shiny rocks in a bowl on the coffee table, catching rainbows from the perspex window in the door.
In the garden, there is dirt overturned. Freshly planted violets crawling up the fence. Three low piles of neatly folded clothes, jeans, shirts. A miniature triceratops, teeth marks in the plastic.
In the earth, the man is holding her hand. The boy is on her chest. Her eyes are only half closed.
When the alarm sounded, as the government threatened it would, she kissed her boy goodnight, I'll see you in the morning. I promise we'll have pancakes for breakfast. She squeezed the man's hand and brought the pill to her mouth. It's better to die at home, he'd murmured sensing her hesitation, at least this way we have each other. She knew it was true, everything they'd been told was true. She swallowed, held them both close, remembered the feel of the sun and a world before they knew it was dying.
Moments later, their bodies stilled, an offering returning to the womb.
Picture this. Silent cars and trucks, no trains or flight. Empty grey suburbs and pruned gardens, clusters of overturned dirt and naked bodies embraced in goodbye.
Leaving it all to a greener world.
Congratulations, Misha!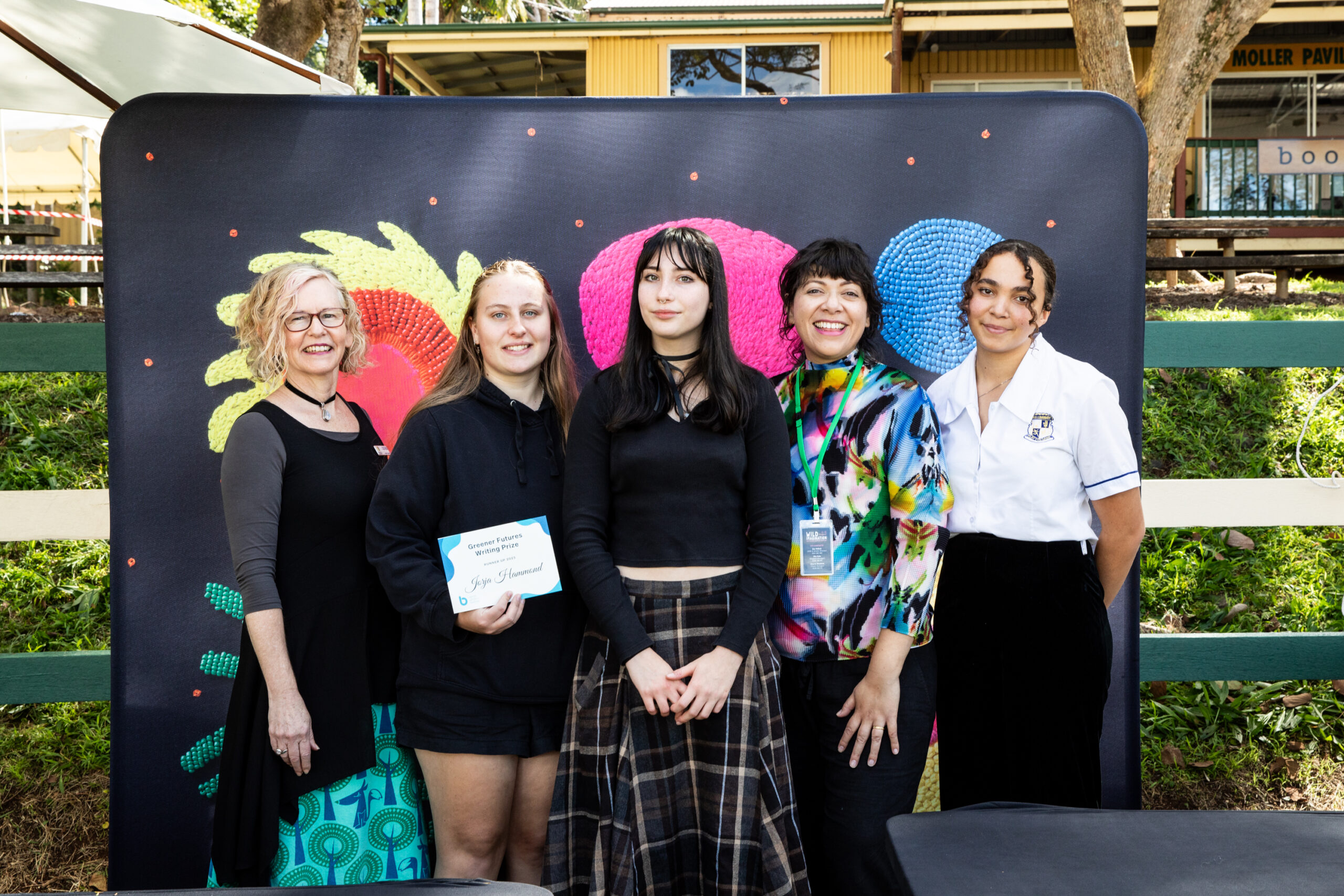 Below are the two runners up:
The Family – Safiya Wilkinson
Dear diary,
My mother has never understood me. Today of all days she decides to pack my lunch. Well today was nude food Friday. At school we've been learning about the effects of our rubbish on the environment. And how the plastic we use will be on the earth forever. So when mum packed my lunch, guess what she decided to pack me. One a muesli bar, how disappointing, then a pack of chips. They were my favorite flavour so only half bad, but then to top it all off a sandwich, a vegemite and cheese sandwich in a ziplock bag. Come on. Does she not understand the bad look I get from the kids with the vegan raw influencer parents. It's a joke she knows I'd only eat a Vegemite sandwich in the privacy of my own home. Anyway it's dinner. I've got it going.
My word sometimes I swear I'm adopted. Dad comes home tonight with take out. It's a special treat, he says. Chinese, his favorite, of course. He also says why travel when I have china around the corner. We learn about food miles in class and the distance our food has to travel to end up on the plate but I think dads logic is a bit flawed. He doesn't understand the concept of eating in a restaurant. My teacher says it's important to use reusable kitchenware. I'll see what I learn in my next class.
I got home from school today and walked in on guess what. My brother, playing with water balloons. And before I could lecture him on the environmental impact of his game. I got a hit right in the face. Mum couldn't keep a straight face when I was angry, she said I was passionate but she obviously wasn't grasping the severity.
My teacher says it's hard for older generations to change their ways. But if I can do anything, I can make my family do things they don't want to. You know what tomorrow I'm going to hold a family meeting. Shockingly enough my meet went great. Mum told me she was proud I was trying while laughing, but I'm taking it as a win.
Starting small. I told mum all about the waste management technique I learned at school. She's going to buy big packets of chips and put them in containers, though she said if someone lets them go stale it's my fault. I tried to get rid of the vegemite sandwich mum said I'm lucky I eat and I can't argue with that. I knew it was a bit of a
stretch though I might as well try. I can live, we did agree on a container. But dad and his takeout containers well he thought I was right.
For once someone else was smart enough to see my genius. It costs the same and he gets points from mum. My brother says if I want him to use reusable water balloons I'll have to buy them for him but I called grandma and you wouldn't believe what he's getting for his birthday.
I'm excited to see how my family will take these new changes and happy to try. Slowly my family can make a difference and I think my teachers are going to be proud. But I'll check in tomorrow.
Scars – Jorja Hammond
"The red polluted air burned my throat, I pulled my makeshift mask onto the bridge of my nose, providing me temporary relief from the burning sensation. I needed water and I needed it desperately. My bindle was packed and I had a plan to get across this deserted town. There were ebony clouds above the town, acid rain was coming, I needed to act fast.
The town had been deserted by humans for a long time before the Martians had made Earth their home. I had had only one close call with them before this night. I pressed my back against the cold brick wall of the alleyway I had called home for the past two nights, I crept to the end, reaching my fingers around the edge of the corner before peeking my head around too. There were two of them, their heads drooping in an eerie way, almost struggling to hold themselves up. I pulled my head back quickly and held my breath when I realised that the second one noticed me. I could hear him, the thick sludge he was trailing behind him told me to run. I was too weak to run but the walls in this alleyway were close enough for me to climb, but the rain was getting closer, being on the roof would be risky.
My survival instincts kicked in before I could think, my weakness turned into strength. I threaded my bindle down the back of my shirt hoping it wouldn't fall and give me away. I pressed my palms against the rough bricks on either side of me and soon I couldn't see the ground through the thick red air. I pulled myself onto the roof, laying to rest for a moment. I sat up and gazed out on this town I had called home for 256 tallies on the side of an abandoned restaurant.
For the first time since climate change was at no return, the sun shone onto my cold, sickly skin. It was then that I noticed the signs of life that now remind me of you, there were green sprouts. The Earth was making a redemption and fighting back. The Martians couldn't adapt quickly enough, they were melting. A drop of rain landed on my left arm, burning quickly through layers of my skin. I cupped my right hand over the wound before noticing a sunroof, so I took shelter in the building."
As I retell my story of the 2020s to my grandchildren, I smile at their fascination with the scar on my left arm before smiling at the fact that Mother Nature will only ever give them scars when they are playing a little too carelessly in the green grass under the bright healthy sun. She won't scar their lungs or body for the mistakes of the humans in the past, for the scars they gave her back then. She will take care of them, only if they take care of her in return.

A huge congratulations to you all.
This competition proves that not only is creative writing alive and well in our region, but the capacity for our up and coming generation to imagine a completely different world abounds.
"We're so grateful to Southern Cross University for sponsoring this new and urgently needed prize. It's a great privilege to work with partners to build new opportunities for our youth and prepare for our shared future." said Zoe Pollock.
"It has been our privilege to work with Byron Writers Festival to create a space for young people to express their thoughts on issues impacting our future.  As a University, we are committed to ensuring that the problems worth solving are at the forefront of our teaching and research and that we are working alongside our future leaders to build a better tomorrow." said Professor Amy Cutter-Mackenzie-Knowles, Executive Dean of the Faculty of Education, Southern Cross University.
---
Southern Cross University fosters writing skills through the Associate Degree of Creative Writing and Bachelor of Arts (Creative Writing). Find out more here.
Book your festival pass at www.byronwritersfestival.com/tickets
---
Byron Writers Festival