---
Inspiring women inspiring others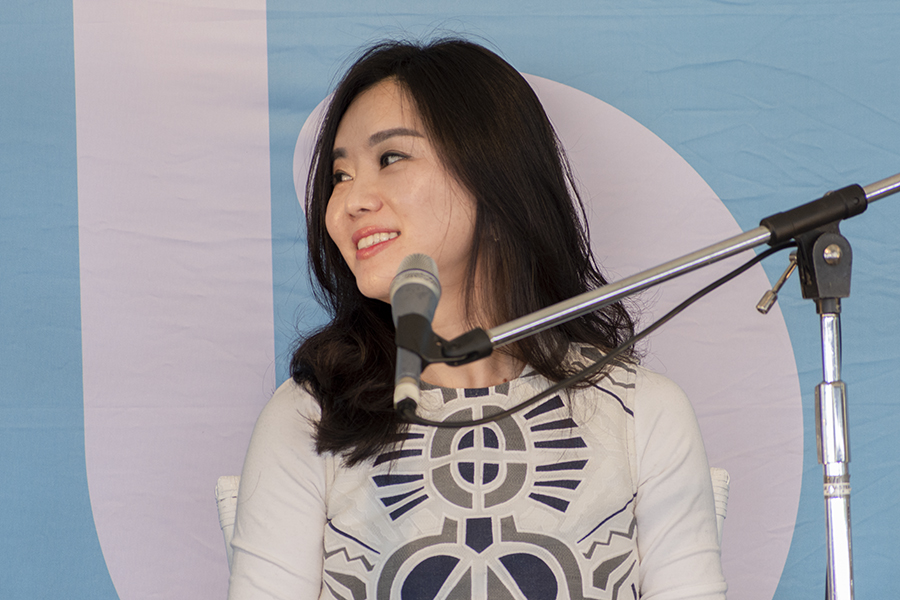 Manal al-Sharif, Anne Aly and Hyeonseo Lee were all surprised people would be interested in hearing their story.
Perhaps this is because the three women could all be described as 'accidental activists', suggests session chair Rosemarie Milsom.
Lee's TedTalk has had 13 million views and her memoir, The Girl with Seven Names, is a global best seller. In a recent meeting with Donald Trump in the Oval Office, the US president told her that he would read it too (she's understandably sceptical).
Lee wrote her book, chronicling her experience as a North Korean defector, to raise awareness of the 'horrible tyranny afflicting her homeland'. She faces the threat of kidnapping and execution as a consequence.
Manal al-Sharif was named by TIME as one of the 100 most influential people in the world.
She has previously been imprisoned in Saudi Arabia for her role in the Women2Drive movement and can no longer return to the country where her son lives. Her memoir is titled Daring to Drive: A Saudi Woman's Awakening.
In September 2017, Saudi Arabia finally changed its laws to allow women to drive, but since May this year, Saudi Arabia has arrested and detained several women's rights activists.
Australian MP Anne Aly recently released her memoir Finding My Place: From Cairo to Canberra, making public the private life behind her success as an academic and politician. The pain of reliving and sharing her past trauma of domestic violence and poverty was very real.
Indeed, it was the guilt of exposing her sons to a truth of which they were unaware that cut deepest for Aly.
'It doesn't matter how far you've come,' she said through tears, 'the guilt and the responsibility is always something that you carry with you.'
Lee knows all about living with guilt – 'it will be last, forever'. She defected from North Korea when she was 17, unaware of the permanency and consequences of her impulsive decision to cross the river into China.
Al-Sharif, now living in Australia, has learned to live in the moment too because the guilt is too 'toxic'. She has found a safe space of peace within herself through the practice of meditation.
So, why would these women doubt the importance of their stories? Al-Sharif observes a global phenomenon that 'most women are afraid to speak up' because, compared to men who are labelled as men for their assertiveness, women will be labelled as 'a bitch'.
Aly, who was born in Egypt and migrated to Australia at a young age, felt her identity as a woman was always defined by others. She recalls her mother's response to her existential ponderings as a seven-year-old: 'Don't think too much. You go mad and nobody marry you.'
The experience of writing a memoir was profound for each woman. While Lee is still processing the trauma of her experience, al-Sharif says that 'self-realisation is the best gift you can give to the world'.
And what a gift to the world these women are – incredible, amazing, inspiring. Audience members wiped tears from their eyes as they stood in ovation, the panellists embracing as the session concluded.
And what price freedom? Lee tells people she is nine years old, because this is her 'freedom age'. But, she says, 'to have this freedom, I paid too much [a] price … why do I have to choose? Why can't I have both freedom and family?'
Rebecca Sargeant is a Southern Cross University Creative Writing student.
---
Southern Cross University Reporters