---
Microscopic and macrocosmic: A chat with Liz Payne
The work of Sydney-based artist Liz Payne explores colour, shape, form and abstraction through a variety of mediums including painting, embroidery and beading. Earlier this year, Payne was commissioned by Byron Writers Festival to produce a piece for this year's event
. We sat down with her to discuss her creative process and more. 
You are a trained graphic designer. How did you discover textiles and mixed media, and what do you love about working with this medium?
I was always interested in textiles from a young age and after completing my Bachelor of Visual Arts degree I went on to study graphic design. This led to me working as a graphic designer here and then in London, designing in the publishing industry across multiple magazine titles. When I returned to Sydney though, I was missing the physicality of creating with my hands and so began to produce artworks that incorporated my passion for textiles, background in visual arts and years of experience as a designer.
Your aesthetic is quite distinct, with an emphasis on colour, shape and symbolism. How did you arrive at this style?
I am immensely inspired by botanical, astrological and topographical elements that encompass the world around us – where shapes, colours and patterns repeatedly occur, from the microscopic to the macrocosmic. Recently I have been exploring various different geometric shapes that I see recurring in nature. These elements comprise all matter that surrounds us – that transcends time and geography, unifies cultures and forms part of a universal language beyond the spoken word.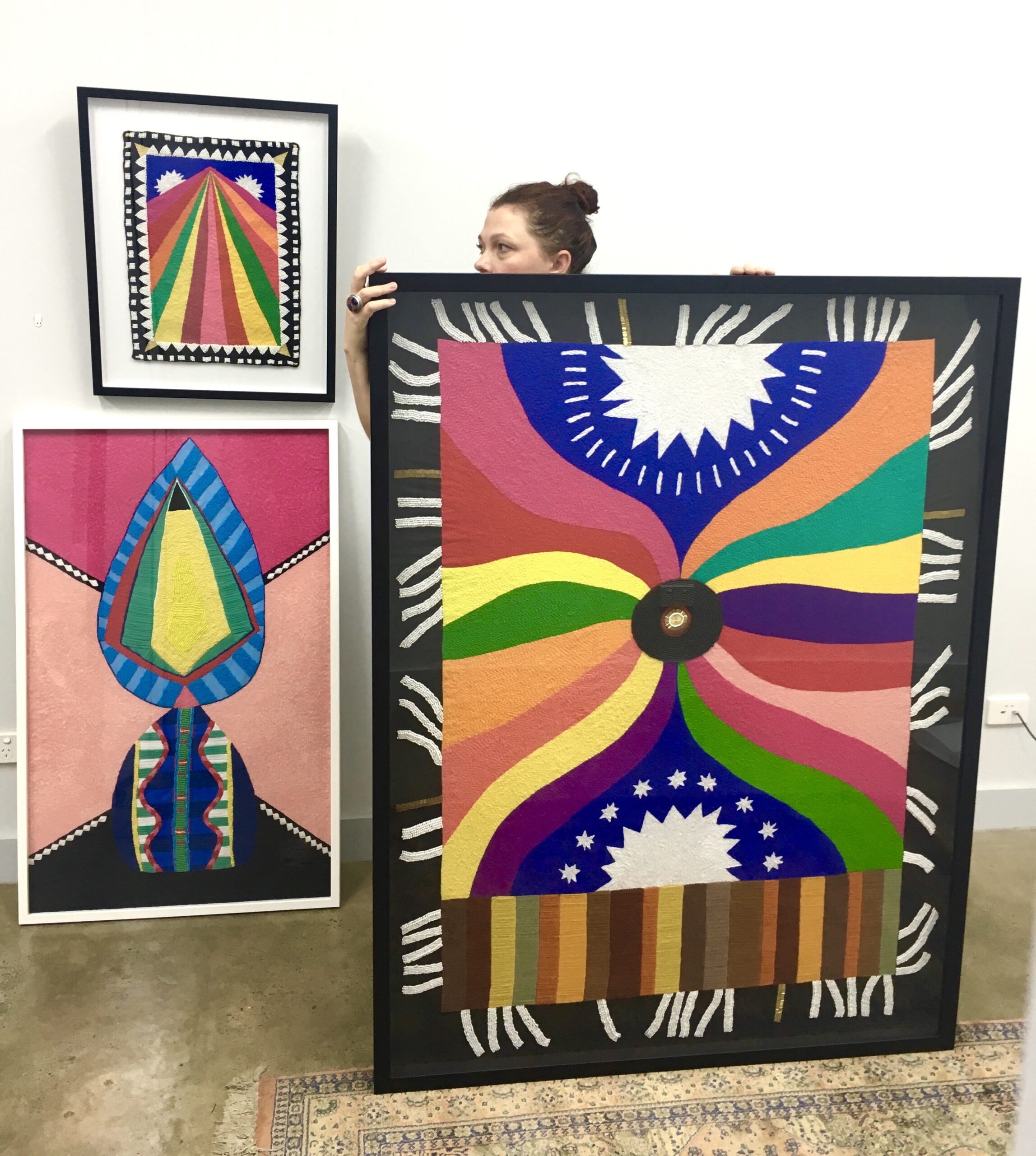 How do your values and life experience influence your art-making?
Lately I have been more conscious of the effects the textile industry has on the environment, and in my work I like to use materials that are repurposed wherever possible. I have created artworks that use offcuts from other artworks, saving all the trimmed ends to use for stuffing my textile necklaces, even making fabric entirely out of thread scraps. I recently completed a series of works on paper that used the offcuts of different fabrics where you could see the shapes that had been cut out previously. There is a completion of the cycle that I find particularly interesting in using all the remnants that forms a connection to the works that have come before it.
What makes you feel creative? How do you seek inspiration in your day-to-day life?
I've always been very creative and find inspiration everywhere and in everything – no matter how small or how seemingly mundane it could be at first glance. I am inspired by art, music, nature, textiles, books, fashion. I am fuelled by a curiosity to know how things work and how they are made, so am involved in a lot of the process from the design to the framing of an artwork. Subsequently my work involves a lot of processes, so I could be painting one day, collaging the next, working on furniture, working with textiles, sewing wearable art outfits. And I find inspiration can cross from one medium to the next.
Tell us about the creative process behind your commissioned piece for the festival. What inspired you?
I was inspired by the scope and possibilities that the theme 'Wild Imagination' evokes. It has a universal magnitude. I wanted to portray different shapes inspired by natural elements, that are open to interpretation, referencing the natural world and the land we are on, and our place in the universe. The green beads that swirl across part of the artwork, for example, are representative of water and its fluidity, and the yellow motif is symbolic of the sun. My work always begins by drawing out the concept either by sketches or in Photoshop, playing around with shape, pattern and composition, before a final design. Next step is creating the artwork, which can be a lengthy process as my work is completely hand-stitched and beaded. Little sequins were added right at the end to the background to evoke the feeling of a starry sky, further reiterating the theme and the possibilities of the universe.
---
For more information go to www.lizlpayne.com
Book your festival pass at www.byronwritersfestival.com/tickets
---
Byron Writers Festival