---
Putting Trust In The Flow Of Life: Q&A With Heather Rose
Heather Rose is the Australian author of eight novels, including the Stella Prize-winning The Museum of Modern Love. In this insightful Q&A, Heather discusses her memoir, Nothing Bad Ever Happens Here.
Q. Nothing Bad Ever Happens Here is your ninth book and first memoir. What made it the right time to write about your own life?
A. Around the time of my 50th birthday, my heart started playing up and I thought, maybe it's time to start it. My kids had been asking for years, and other friends and family, too, so I began…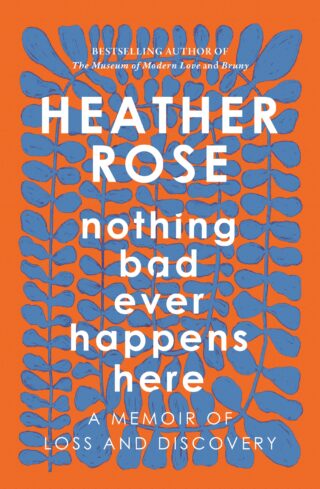 Q. Despite grief and heartbreak, you "put your trust in the flow of life". How much of that trust comes from connection with nature?
A. I grew up in Tasmania. It was a childhood of seasons, big skies, bare feet. There was swimming, fishing and sailing. Nature has always felt like a friend. Sometimes our heartbreak happens right in the grip of natural events. We lose people we love and it can feel impossible to know what to do with the grief and the emptiness. When the human world gets hard, as it does, my practice is to take it moment by moment – the flower, the interaction with a stranger, the love of a friend, birdsong, the cup of tea. To remember to nourish myself with sunshine, fresh air, and moving my body in whatever way I can. The natural world is always talking, if we take time to listen.
Q. You turn grief and pain into conduits for gratitude and joy – how does that perspective play out in the everyday?
A. The days we find courage to get through the pain are sometimes the greatest days of all. I'm grateful for sunrise, for light across the water, leaf and tree, rain and tides, everything that grows and feeds us and makes habitat for the countless other beings. The world is so generous to us. Finding ways to be generous in return is a beautiful exploration and reminds me about all I have to be grateful for. That's how I come back to joy.
Q. You live simply and quietly in Tasmania. Has that changed after the success of your novels The Museum of Modern Love and Bruny?
A. It did become very busy there for a while. So we started to imagine a place with a long driveway, water nearby and a forge. Now we still live in Tasmania but with mountains, a river and the sea. We have a long driveway and the forge is underway. We are growing delicious food. Sometimes the weather is wild, wifi fails and we are cocooned in the moment. On any day, we are laughing. It's peaceful, loving and kind. I never take any of it for granted.
Q. Your curiosity has taken you on adventures spiritual and physical. Where is it drawing you today?
A. There's a line at the beginning of the memoir that says 'Life is a process of forgiveness for the choices we make in order to be ourselves.' I'm still learning to love and forgive and celebrate all it took to get here. I'm swimming at every opportunity, no matter the season. I'm laughing and dancing and having adventures. I'm diving deeper into an appreciation for the world we inhabit. The food we eat. This biosphere that connects us. The legacy we are leaving. And I'm reminding myself to go gently and with joy. To start with love. To be grateful. I'm not sure where that is taking me, but it feels good.
---
Heather Rose will be joining us at Byron Writers Festival 2023. Sessions accessible via a 1-Day or 3-Day festival pass, available to purchase at www.byronwritersfestival.com/tickets
---
Byron Writers Festival