---
Sarah Blasko's Eternal Return
One of Australia's favourite female singer-songwriters, Aria award-winner Sarah Blasko is known for her quirky sense of style and unique vocals.
What is not so well known however, is Sarah Blasko's strict religious upbringing and how it has informed both her life and lyrics. She spoke to Erik Jensen in front of a captivated audience earlier today.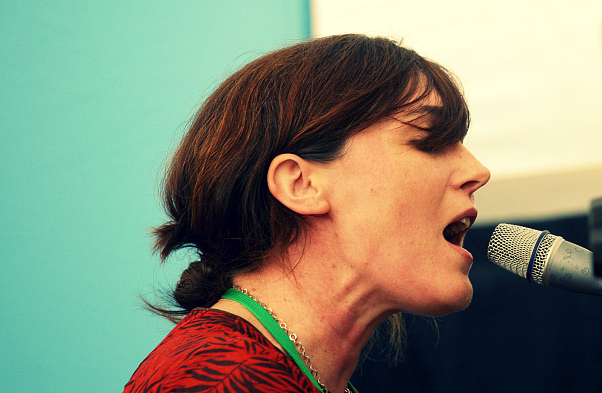 Born the second daughter of two christian missionaries who had recently returned to Australia from the Reunion Islands, Blasko's younger years were spent involved in the pentecostal Christian Life Centre, which later went on to become Hillsong. It was a dramatic, 'emotional and intense' place where people talked-in-tongues and were taught the world was going to end on Jesus' imminent return; a place where plans for the future were ultimately futile.
Blasko described this as 'crippling her as person' and when she was 16, her sister and herself decided to leave the church and staged an intervention of sorts with their parents, who chose to leave with them. From that day forward, they never returned to the church, although Blasko's religious upbringing continues to affect her to this day.
She admits her first two albums, The Overture and The Underscore and the platinum-selling What the Sea Wants, the Sea will Have are largely centred around guilt and a time in her life when she didn't really know who she was. And although she tries not to think about faith these days, she still finds it informs the imagery in her songs.
Her latest album, Eternal Return, however, is a 'buoyant departure' – as described by Rolling Stone – from her earlier, darker works. Blasko sees it as an uplifting record that is 'more about being in touch with yourself', and she relishes being able to look back at her albums and see how she has changed.
Blasko believes faith can rob people of being in the present, which she says is the way she tries to live her life.  The singer finished by performing We Won't Run whose lyrics echo this attitude to life. She sings: 'We won't run, we can fight, all that keeps us up at night, there is far to go now, let's not waste a minute more'.
You can watch the hauntingly beautiful video clip for We Won't Run.
Bec May is a Bachelor of Arts Student at Southern Cross University. She is also completing an Associate Diploma in Creative Writing.
---
Southern Cross University Reporters