---
Sculptures at Byron Writers Festival 2019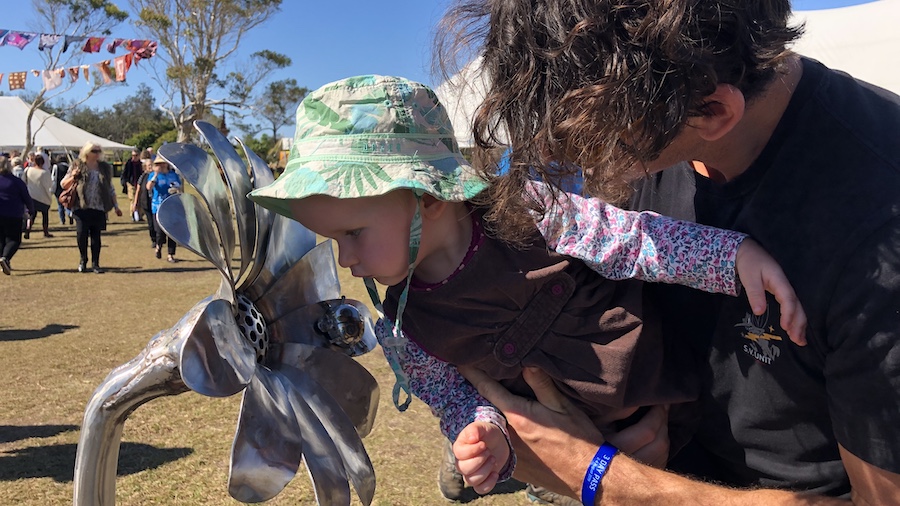 Sunday provided even more glorious weather than Saturday, perfect for patrons to enjoy the sculptures and natural parklands as they saunter between marquees, food stalls and gift shops.
An annual highlight at the Byron Writers Festival is the captivating array of sculptures throughout the native parkland festival site.
Co-curators Mercedes Mambort and Suvira McDonald are both local artists from the Northern Rivers.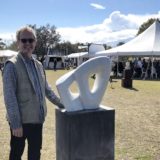 McDonald is a former masters of arts student from Southern Cross University who graduated in 2000 and has been sculpting in the local area ever since.
Their aim with this exhibition is to showcase the work of the Northern Rivers 3D art community, in a wide range of mediums. This is an incredibly inclusive group of artists.
Special attention has been given to a balanced representation of gender, cultural diversity, varying age, and various career stages—some still studying at a tertiary level.
McDonald has confirmed that John Water's work has already sold out, with many further enquiries being made.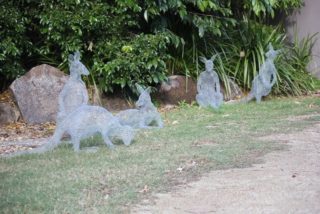 McDonald is keen to draw attention to the significantly underrated work of artist Damien Lucas, who he considers 'an unsung hero'.
A graduate of the National Art School in Sydney, Lucas went on to teach at the Tom Bass Sculpture Studio School in Sydney, along side the late founding artist himself.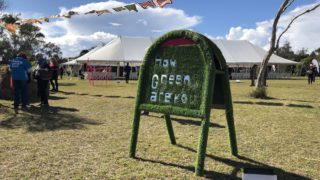 Sales enquiries during the festival can be made at the sculpture tent, with post-festival enquiries directly through Suvira McDonald's website.
The sculpture exhibition has been running for the last 12 years of the Byron Writers Festival, with the last six years under McDonald's curation.
On Friday, some of the more delicate sculptures were still wrapped to protect them from the weather.
However, during the course of the day as the rain eased, they were unwrapped and framed by spectacular clouds and even an iconic Northern Rivers rainbow.
Ali Rayner is a Southern Cross University Creative Writing student. Southern Cross University students have reported on Byron Writers Festival since 2010. Find out where a degree from Southern Cross University can take you.
---
Southern Cross University Reporters