---
Vale the incomparable Mungo MacCallum. Mungo was closely involved with Byron Writers Festival since its inception and will be fondly remembered by Festival audiences as the instigator of lively, irreverent discussion, often with a glass of red wine in hand. Thank you to Russell Eldridge for writing this wonderful tribute to his extraordinary life and work.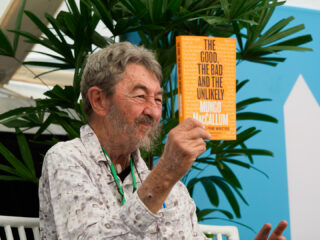 Byron Writers Festival has lost a great friend with the passing of Mungo MacCallum. Mungo was not only one of Australia's pre-eminent political commentators, but a major contributor to the Festival since its inception.
For more than two decades, the lanky, bearded figure would grace the Festival as panellist, moderator and social interlocutor. Incisive, informed and fearless, his delivery was always punctuated with that distinctive, shoulder-heaving laugh.
Mungo needed to be part of the action, and panellists were not safe even when he was in the audience. As question time rolled around, a familiar form would shamble to the microphone and set things to rights.
One memorable evening at the Byron Community Centre, Germaine Greer was promoting her book Shakespeare's Wife, when a hand went up in the audience. Greer squinted into the dark: "Mungo!" she exclaimed, "They told me you were dead!".
"Much exaggerated," he replied, then proceeded to provide a quick refresher on Elizabethan history.
Germaine stared open-mouthed: "The gilded child doth lecture in my sight," she muttered.
In honour of the inimitable Mungo, the Festival Board has initiated a political discussion panel in his name. It will be a marquee Festival event and will feature leading Australian media and political identities.
On behalf of the Byron Writers Festival community, we extend our condolences to Mungo's wife Jenny, and their daughters, Diana, Gail, Adrienne and Gillian.
Russell Eldridge
Former Board Member, Byron Writers Festival
---
Byron Writers Festival