---
Walking Towards Ourselves
Walking Towards Ourselves: Indian Women Tell Their Stories
Walking Towards Ourselves is an anthology that explores the gender revolution taking place in India today through personal narratives and mini-memoirs written by India's leading women writers. These are real, lived accounts from women, which go beyond the headlines. Told with startling honesty, piercing insight, moments of poetry, and flashes of humour, these women and their stories give powerful insight into what it means to be a woman in India in a time of intense and incredible change.
Byron Writers Festival will feature three of the contributors – novelist and human rights activist Salma, memoirist Rosalyn D'Mello and poet Sharanya Manivannan as well as the anthology's editor Catriona Mitchell. They will participate in numerous sessions throughout the Festival including a Q&A following the screening of a documentary about Salma's journey to freedom.
Salma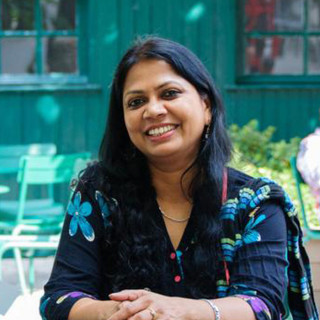 Salma is an Indian Muslim poet, novelist, social worker and political activist. Following is an extract from her piece Beyond Memories
Betrothal
During this time I was betrothed to a boy from my village. My future in-laws stood before me and demanded that I promise to never write again. It was only then that I realised that just as woman is denied the outside world, she was also denied the activities that could give her freedom, recognition and an identity.
I suggested we call off the wedding.
The anger and scorn of my in-laws made me realise they were not used to a girl talking back to them.
My opposition to the marriage plunged my parents into profound anguish and sorrow, but I didn't want other people to interfere with my journey towards making a place for myself in the world. I believed that the survival of my individuality and identity, at least as a speck in this vast world, was far more important than anything else – and it is this belief alone that brought me to where I am today.
Sharanya Manivannan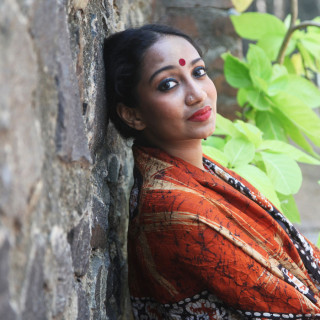 Sharanya Manivannan was born in Madras, India. She is currently working on a book of stories, a novel, as well as two poem manuscripts. Following is an extract from her piece in the anthology, Karaikal Ammaiyar and Her Closet of Adornments
My friends are my significant others, and for them I conduct all the rituals that we are socialised to think belong only to the sphere of dating. For my friend who thinks my rose and cardamom perfume smells like chewed betel nut, I wear the vanilla one. For my friend who visits once a year from afar, I wear my long hair in a braid. For my fiercely intelligent friend with whom I write, who wears dresses every day, I shave my legs. Let me paint a picture: two women in sundresses in a garden cafe, earphones in, pounding away at keyboards, stopping for cake and conversation.
Rosalyn D'Mello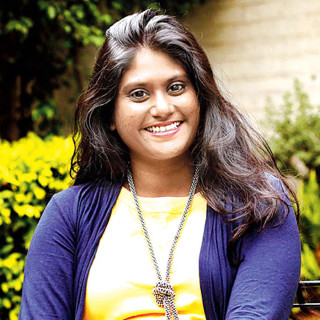 Rosalyn D'Mello is an arts writer based in New Delhi. Following is an extract from her essay Black, in which she exposes how a woman's beauty and desirability in India are directly associated with fair skin.
Long ago, I attempted to defend myself against the societal predisposition to characterise me first as black by seeking refuge in humour. I did so at my own expense. I laughed at myself. It was the only way I could participate in the joke I was seen to be. If some eager friend wanted to take a photograph of me after sunset, I'd laugh it off and tell them I would be camouflaged by the night sky. "You need a very strong flash," I'd say. Or if I'd arranged to meet an acquaintance who was yet to meet me in the flesh, I'd forewarn him or her to look for a tall and dark girl. Or I'd invent a story about how some Goan ancestor of mine must have had an affair with an African slave.
Granted, it was self-deprecating, to say the least, but as long as I was in charge of the narrative, it couldn't damage me.
–end.
Extracts reproduced with permission of the Publisher. Walking Towards Ourselves: Indian Women Tell Their Stories. Edited by Catriona Mitchell. Hardie Grant.
Session Details
Friday 5 August
Indian Women Tell Their Stories (13)
3:00 – 4:00PM, YELLOW BRICK ROAD PAVILION
w/ Rosalyn D'Mello, Sharanya Manivannan, Salma
Chair: Catriona Mitchell
Supported by: Australia-India Council
---
anika