---
Auē! Writing from the long white cloud
Becky Manawatu (NGĀITAHU) was born in Nelson, raised in Waimangaroa, and lived in Germany and Italy before returning to the West Coast with her family. Her stunning debut novel 'Auē' was the best-selling New Zealand novel of 2020 and 2021.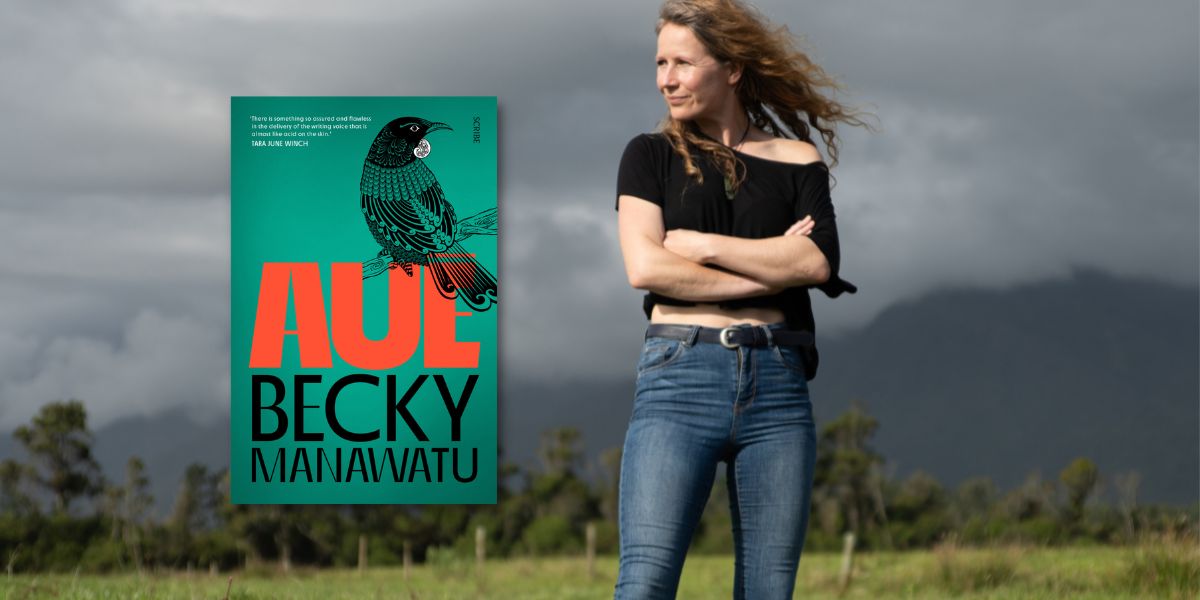 Much of the novel was written in a family friend's house at the mouth of the Mōkihinui River north of Westport. A formative experience that led to the novel was the murder of Manawatu's 10-year-old cousin Glen Bo Duggan by his abusive stepfather when Manawatu was 11. 
'Auē' is a Maori word meaning to cry, howl, groan, wail, bawl.
The novel tells the story of teenage boy Tauriki and his eight-year-old brother Arama who is sent to live with rural relatives at Kaikōura.
Taukiri was born into sorrow. Auē can be heard in the sound of the sea he loves and hates, and in the music he draws out of the guitar that was his father's. It spills out of the gang violence that killed his father and sent his mother into hiding, and the shame he feels about abandoning his eight-year-old brother to a violent home.
But Taukiri's brother, Arama, is braver than he looks. He has a friend, and his friend has a dog, and the three of them together might just be strong enough to turn back the tide of sadness.
Becky Manawatu's bestselling multi-award-winning novel is both raw and sublime, introducing a compelling new voice in New Zealand fiction.
At Byron Writers Festival Becky Manawatu will be taking part in the panel 'Outside Influences' (Sun 28 Aug) with Mawunyo Gbogbo where they will discuss their depictions of the criminal world and the complicated nature of love, 'Writing From The Margins' (Sat 27 Aug) with Mirandi Riwoe and Mykaela Saunders, and 'Reaching Across the Generation Gap' (Sat 27 Aug) with Bronwyn Birdsall and Sara El Sayed.
Event details and tickets
For full program, go to byronwritersfestival.com/festival-program.
1 and 3-Day Passes for Byron Writers Festival 2022 are available via byronwritersfestival.com/tickets.
---
anika