---
Festival preview: Christopher Raja
Christopher Raja's landmark memoir Into the Suburbs: A Migrant's Story is an examination of race, class, migration and tragedy through a deeply personal lens. Here he offers his thoughts on the gestation and process of writing the book, prior to his appearance at Byron Writers Festival 2021.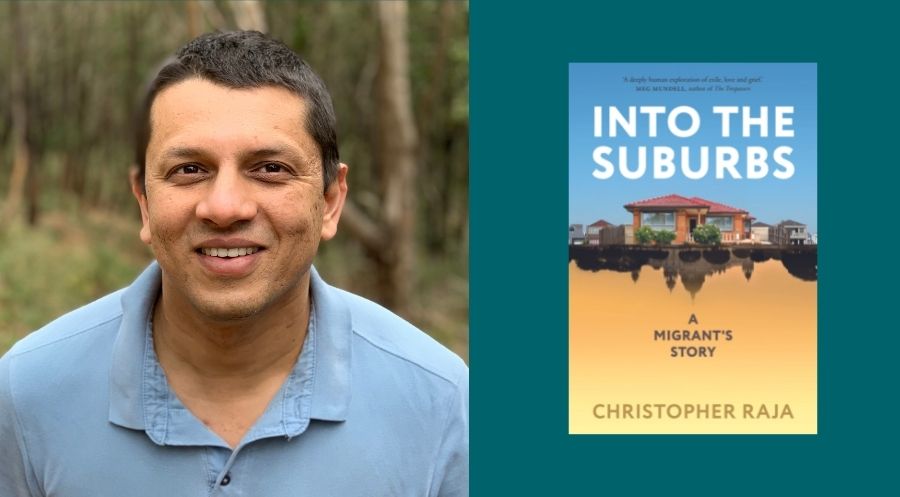 Can you outline the inspiration for writing Into the Suburbs? What was the initial drive and what questions were you trying to explore?
When I was eighteen years old my father's body was found in Port Phillip Bay. The cause of death has remained a mystery. This event changed our lives. For years I was unmoored, never feeling quite right. Writing The Burning Elephant and Into The Suburbs was a way of understanding my Indian background and my family's migration from Calcutta to Melbourne, dealing with what it was like to fit into Australia as new migrants and ultimately coming to terms with my father's untimely death.
Can you identify some of the key influences on the book?
I am a voracious reader. Some of the books I was reading and thinking about at the time of writing my memoir included Tara Westover's Educated, Peter Handke's A Sorrow Beyond Dreams, William Shakespeare's A Midsummer Night's Dream, AD Hope, Peter Steele and T S Eliot's poetry, Annie Ernaux's The Years, Karl Ove Knausgaard's My Struggle, Rachel Cusk's Aftermath and Emmanuel Carrère's The Kingdom.
Turning to the nuts and bolts of publishing the book, promotion, and reception, how has your experience of these things been different to the works of fiction you have published?
Every project is different. I am grateful to have had my play script, The First Garden, about Olive Pink and her botanic garden in Alice Springs, published by Currency Press in 2012, and The Burning Elephant, a YA novel that deals with the assassination of Indira Gandhi, published by Giramondo in 2015. Into the Suburbs was a very different experience as it was a private story for many years. I had written an early draft twenty years ago, but found writing this book required time, space and perspective, so I abandoned it. The final process was unexpected, quick, cathartic and healing. I am appreciative I could do it and get this story out of my system into the public realm, but talking about the book has been difficult. I know it has touched a lot of people. I have received emails and letters telling me what this book has meant to some readers and I am glad about that. The personal events I write about – being a teenager, sexuality, migration, death of a parent, class and exile – are universal.
My publisher for Into the Suburbs was Madonna Duffy and she and the publicist Jean Smith at University of Queensland Press have been a dream to work with and a terrific support. As I promoted this book they recognised I was vulnerable, wanting to hide, but bold at the same time and wanting this story to be read widely. My agent Martin Shaw was encouraging and has been very helpful behind the scenes and with social media.
Writing Into the Suburbs changed me. Promoting the book during a pandemic in the midst of a hard lockdown in Melbourne was another challenge. Now I feel happy, have less of an ego, liberated somehow.
Were there any sections of the book that you found especially challenging to write, from either a technical or emotional standpoint?
The memoir is written from the perspective of a teenager and I avoided including how I think and live now. Some readers appear to have found the sexual content confronting. You can't control how readers will interpret your book. I wanted to use my adolescence as a blueprint to show how a teenage boy thinks and sees the world, the type of messages and expectations that young men receive and try to process on their own. I was hoping for this to be a conversation starter about the need to dislodge sexism and racism. Race, violence, class, suburbia and death are subjects I deal with in my memoir and I wanted to write about these topics in an honest and precise way. Writing about my family, being a male, a teenager and sex was confronting, as was the re-creation of my father's last hours. It is hard to be honest.
Based on your experience, can you offer any general comment on the literary relationship between India and Australia? 
India and Australia have an old history that stretches back to time immemorial. Tectonic plates, the supercontinent of Gondwana, Dravidians, dingoes, and the seven sisters star cluster named Pleiades in Greek mythology are just a few stories that connect the two countries that were once part of the British Empire. One reason Australia was colonised was to protect the flanks of India from the French. India was the jewel of the British Empire and shares a number of the legacies of colonialism that Australia is still dealing with.
What writing projects are you working at the moment, and what might be something you hold a strong ambition to do longer-term?
Longer-term, I have more to write, more potential, more to absorb, more work. I am considering writing a sequel to Into the Suburbs. At the moment, I am focused on my fellowship residency at the University of Technology in Sydney. After years of living remotely, I'm enjoying spending time in the city, meeting students and staff at the university and finishing my next novel.
Into the Suburbs: A Migrant's Story is published by UQP 
---
Byron Writers Festival