---
How I got here: Helliar, Laurie and Spicer spill the beans on real life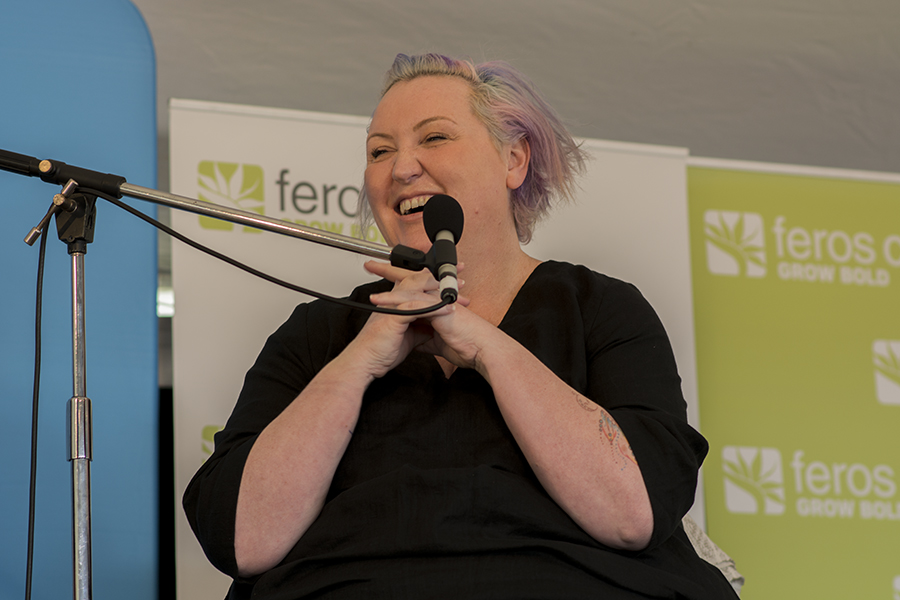 We all knew we were in for a laugh with Mandy Nolan hosting Peter Helliar, Meshel Laurie and Tracey Spicer, and what they gave fulfilled those expectations.
So, how did they get here? Nolan answered with 'it's not going to be by public transport, because we don't have any'.
In a reflection of their lives, successes and failures and how they manage life in the public eye, the panellists in this session answered questions of how they got to where they are today – their aspirations, worst jobs, career disatsters, and the ultimate question, 'do you feel successful?'.
Spicer, introducing herself in the third person, upon Nolan's request, said she was 'a bogan from the outskirts of Brisbane who once said "fuck" on air'.
@TraceySpicer on herself "Is a bogan from the outskirts of Brisbane whose first boyfriend was called Shagger" #Byronwf2017 #traceyspicer

— Rory Banwell (@rorybanwell) August 5, 2017
Helliar, following suit said that he wishes he met Tracey Spicer at a blue-light disco and is constantly looking for a t-shirt to make him look slimmer.
Laurie, is also looking for such t-shirt.
But, reflecting on her ambitions as a child, Laurie recounted a recent epiphany she had where she realised she was doing exactly what she wanted to.
'I'm a manifesting motherfucker! I have a vision board,' Laurie said.
Spicer said she pursued journalism after writing for the student paper in high school.
'I wanted to write for the student paper because I went to a really oppressive Catholic school and wanted interview the principal about abortion,' she said.
Helliar thought he would end up writing for television because he 'didn't think people like [him] would end up on TV'.
'There's lots of white guys on TV… I'm a white guy, but not a very good-looking white guy,' he said.
Reminiscing on his 'Bon Jovi stage' Helliar recalls his worst job outside breakfast radio was packing containers at the docks.
And Laurie worked the overnight shift as a receptionist in brothels emptying the condom bins and washing the towels at the end of the night.
Their biggest career disaster?
Spicer said she is a chronic fainter, and after having to excuse herself in the middle of presenting the weather two nights in a row to faint off camera, she said the 'coolest thing to happen' was a subsequent punk band forming called 'The Fainting Weathergirls'.
@TraceySpicer -after several times fainting on camera as a weather reporter, a band called themselves The Fainting Weathergirls#Byronwf2017

— Rory Banwell (@rorybanwell) August 5, 2017
Helliar said his job is 'to make a dick of [himself]', so the more humiliating the better.
When asked about their three worst personal failings, Helliar said he 'works too hard and is a perfectionist', as though he was in a job interview which gained an enormous laugh within the audience.
Laurie concluded that her main negative attribute is her arrogance and ego, but she has a few.
'I always wanted to be successful enough to be an asshole,' she said.
Helliar interjected by adding, 'sometimes I make my wife's tea a little too strong'.
But in all seriousness, he admitted that sometimes he has some insecurities around his intelligence where he feels 'not smart enough to be in a room', particularly when sitting next to Waleed Aly on The Project.
It was a refreshing discussion, where the panel members reflected on not only their successes but their realities.
Laurie recalled that when she left school everyone said that she needed to go to university and 'get her teaching', but she feels successful because she is doing exactly what she wants to do.
'And I never got ma teaching,' Laurie said.
Spicer said she most certainly feels successful purely because she has 'been able to age over 35 on telly'.
Adding, 'yeah fuck you, you bastards'.
Karlyn Major is a Southern Cross University Digital Media & Communications student. 
---
Southern Cross University Reporters