---
Writing the landscape: the country is calling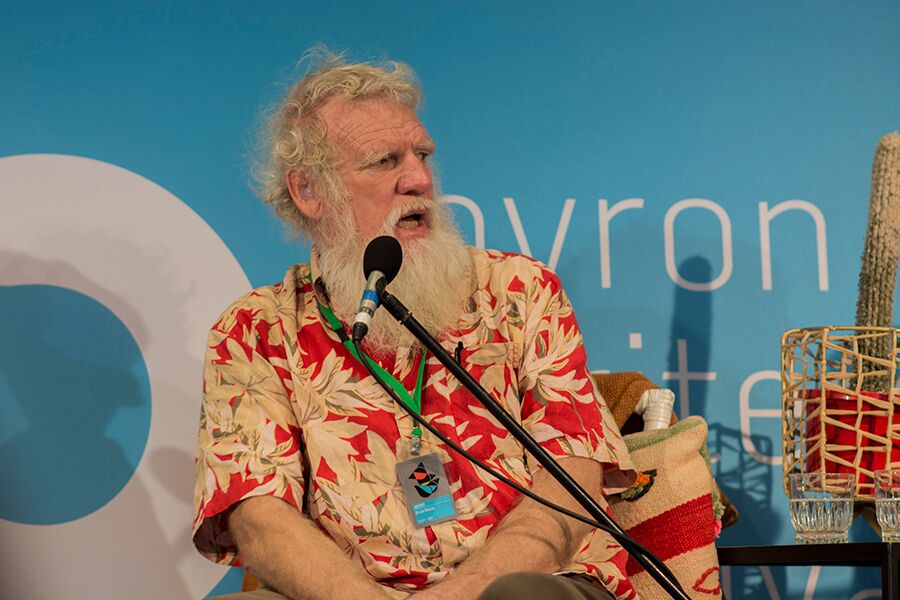 There could hardly be a more appropriate place to discuss what it means to writing about the landscape than Byron Bay.
Byron has some of the most incredible natural beauty, boasting some of the most amazing beaches I've ever seen. At the same time, it is also a man-made urban hub – it's so full of people, cars, and buildings, teeming with life and difficult to navigate.
Panel chair Lynda Hawryluk describes landscape as taking on a 'physical presence,' a comment that set the stage for Bruce Pascoe, author of Dark Emu, described the Aboriginal connection to landscape. Pascoe is an indigenous writer from the Bunurong clan of the Kulin nation, and he describes the culture as revering of the earth as a mother.
Pascoe's deep connection to the land is such that without a welcome to country in Byron, he cannot speak his own language. But there is a phrase which means 'you are nothing, the Mother is everything'.  This connection is part of the language as well as a culture, and Pascoe says that to be connected to country and to write about it, you must first 'acknowledge how you came by it'.
For white Australians, this means facing the uncomfortable history of Europeans in Australia– which means that you can't just have a dot painting, as he says most places will, you have to also acknowledge colonialism.
At its core, Dark Emu seeks to correct historical injustices, as research done by Pascoe shows that Aboriginal people had agriculture by the time colonizers arrived. While the book was written for his people, he uses the accounts of Australian explorers who are widely respected by white Australia.
Kim Mahood, who recently authored a memoir entitled Position Doubtful. Of writing landscape, Mahood says, 'you can't separate the quotidian, the ordinary, from the remarkable'. The book tries to represent the Tanami desert in Western Australia as a living, full place, rather than a desolate wasteland.
Mahood spends a lot of time with the Tanami's Aboriginal community, and her description of the land as 'full' is very much in line with Pascoe's poetic description of landscape. She spends a lot of time walking, both alone and with Aboriginal locals, and she describes it as an experience that lets her 'be alone with people.'
Also joining the panel was Nicolas Rothwell, author of The Red Highway, which explores deserts and remote areas of Australia. The compilation is non-fiction, and Rothwell describes most people as being 'not fully present' in landscape, especially those from urban areas.
I am struck by the unique ways that each author interacts with landscape, and the language they use to describe it. But this natural beauty is fleeting, and the shadow of climate change hung over the session. Pascoe keeps fighting for the land to honour his grandchildren, who – as he says – have another '80 years' on this earth. He wants others to fight, too.
He said, 'it would be unnatural for someone to live in a country for any length of time without wanting to engage with that country. The country has been calling to Australians, telling them to love it.'
All Australia has to do now is listen.
Megan Morgan is a Southern Cross University Bachelor of Visual Arts and Creative Writing student. She also holds a degree in English from the University of Massachusetts Amherst. 
---
Southern Cross University Reporters