---
Jack Charles: Out of my own heart of darkness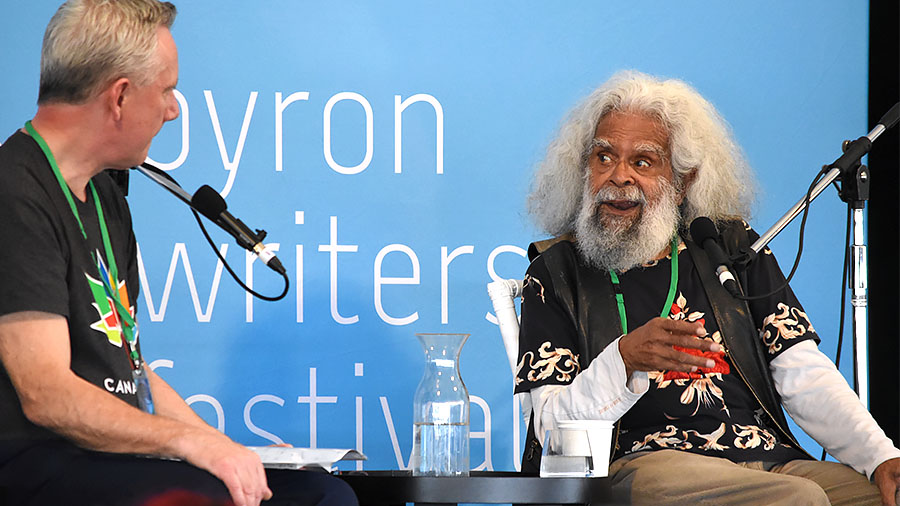 One of the most entertaining talks of the festival had to be with actor Jack Charles, who received a standing ovation after taking us all on a rollicking journey through the underbelly of Aboriginal theatre and cinema.
Shoemaker is the Vice Chancellor of Southern Cross University and is one of Australia's leading researchers in the field of Indigenous literature.
'Legendary status, Uncle Jack,' Shoemaker said. 'Ready to live up to it?'
He did so in great style, by describing the process of 'coming out of my own heart of darkness' getting 'off the poo [heroine]' and taking his place as a shining 'black light' for the Aboriginal community.
'Someone had to do it,' Charles said, with a laugh. 'And I'm glad it could be me!'
That wasn't to say his stints in prison were a bad thing; in fact, Charles credits it as the secret of his good health at the age of 76, believing that for every occasion he was incarcerated he purchased another 'five-year lease on life'.
'My jail time was well worth my time,' Charles said, reminiscing that at one point he formed a punningly named band behind bars called Just Us.
He told many stories about his acclaimed acting career, citing films Billie Dragon and the documentary, Bastardry, and told an especially entertaining story about the 1980 short film, Terra Lostralis.

'I was promised a shot of heroin and marijuana,' he claimed, to play a 'man in leopard print sockets',  a character who comes swinging down from the trees to save the films protagonists.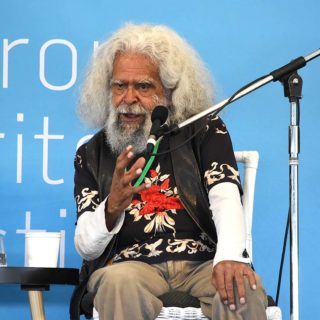 Also, his character had a 'pet giant koala' which he assured to the audience was animated.
Later, Charles was warned against seeing the film by a close friend, who kindly told him: 'If you see it, Jack, you might want to give up acting.'
He told a story about another film, Behind The Legend, where he played the character Eddie Gilbert, and, as a result, he was introduced by a friend to Sir Donald Bradman.
'I'm an Aboriginal man now,' Charles said, eyeballing the crowd. 'You have to trust me, I'm telling the truth!'
Charles can claim a major role in the establishment of Indigenous theatre in Australia.
In 1971 he co-founded Australia's first Indigenous theatre group, Nindethana, at Melbourne's Pram Factory with Bob Maza and he has continued to lobby for the sector.
The festival's conversation took a more serious tone when Charles talked about leaving the stage production of Secret River over the Australia Council for the Art's Proof of Aboriginality Policy for First Nation artists seeking funding.
'It didn't come to pass because I was so pissed off,' Charles said. 'The Arts Council [needed] to pull their heads out… and it [took] a bastard like me [to make it happen].'
'I'm a spearpoint,' Charles said. 'I land in the hearts and minds of people who are a bit iffy on change.'
Charles assembled a team of lawyers and asked them to look back over the 32 years of the Proof of Aboriginality Policy's history, to identify if any money had been fraudulently claimed.
'We need to know the empirical numbers!' Charles cried, pointing a finger skyward.
In 32 years of records, the lawyers eventually found just two instances where the council said money had been falsely claimed by 'two blokes from out west'.
'Did you prosecute them?' Charles asked.
'Yes,' they said. 'But we lost. It turns out they were Aboriginal.'
As a result of these findings, the Proof of Aboriginality Policy was abolished.
It may be viewed as a great credit to the creative and artistic communities that no money was wrongly claimed, but Charles has an entirely different theory.
'No white people would ever want to be Aboriginal!'
Snowy Frankland is a Southern Cross University Creative Writing student. Southern Cross University students have reported on Byron Writers Festival since 2010. Find out where a degree from Southern Cross University can take you. 
---
Southern Cross University Reporters