---
Behrouz Boochani: 'I think the problem was this. It's broken.'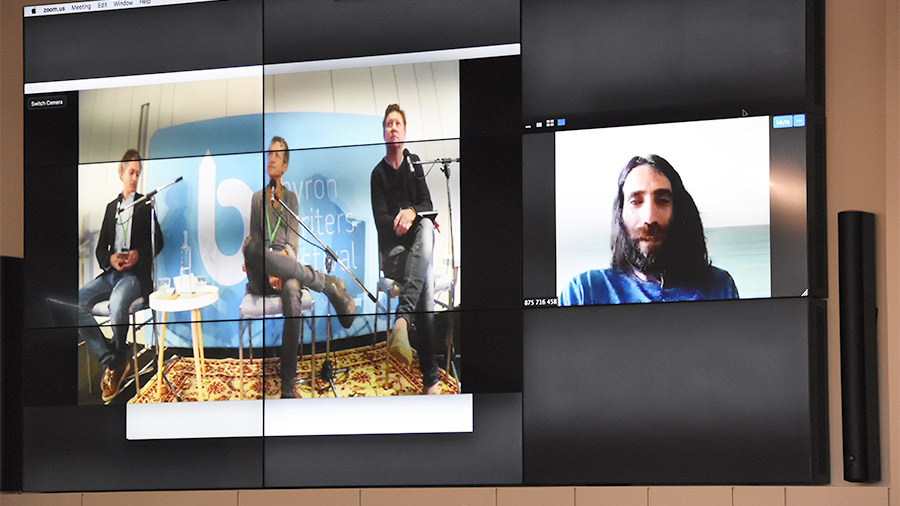 A silent, sombre hush fell over the Banksia Pavilion early this Sunday morning.
Every seat was filled, patrons stood shoulder-to-shoulder in the wings, and a crowd of unlucky latecomers were slowly congregating outside the glass doors.
The silent waiting was in anticipation of the live stream of Iranian-Kurdish journalist Behrouz Boochani, author of the 2018 Victorian Prize for Literature No Friend But The Mountains: Writing From Manus Prison.
Boochani arrived by boat to Christmas Island in 2012 as a asylum seeker and has been incarcerated on Manus Island for six years.
Waiting with the rest of us were session chair Geordie Williamson and two of Boochani's collaborators; his translator and close friend, Omid Tofighian, and Alex Mankiewicz, co-author of  Until We Are All Free, a collaborative graphic novel.
As we sat, images of Makiewicz's graphic novel scrolled across the projector screen, depicting the early life of Boochani.
When Boochani's face suddenly appeared on the screen, there was an audible intake of breath from the audience.
Instead of the lively, enthusiastic introductions Williamson had given at other events, he began this talk by apologising for Australia's 'barbaric policy of off-shore detention', and by expressing the audience's sentiments that 'we would much prefer [you] could be here in person'.
'Behrouz, can you hear us?' Williamson asked.
'I can hear you,' Boochani said. 'Thank you very much, and I'd just like to say hello.
'The government is lying-,' he began.
Ironically, it was at this point that the feed froze, and the audience was left with this poignant soundbite ringing in the air.
At first, we could only pick up fragments: 'Most people are locked up in rooms… We should be hopeful… The government is playing with us.'
When the feed recovered a little, Williamson asked about Boochani's writing.
The audio was still very patchy, but we were treated to longer sentences: 'Why is it when someone becomes a refugee, they should lose their identity?… [I] struggle to get my identity back… My mission as a writer is to tell this story.'
Williamson resolved to try one more question before resorting to a plan B to deal with the sound issues, and he asked how No Friend But The Mountains fell within the tradition of prison writing.
'I think the problem was this,' Boochani said, holding up his headphones. 'It's broken.'
The audience laughed, and by a stroke of good fortune the connection only improved from there.
Boochani said his book differs from traditional prison literature, which typically features more documentation on living conditions and the people around them.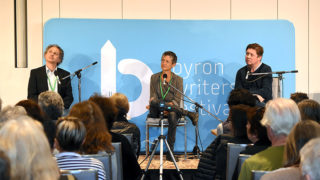 'This book is different. [It's] about love, philosophy of love, philosophy of morality… [and] I use fictional elements.'
Ultimately, Boochani wanted people to 'get some imagination about life' on Manus Island, but admitted that his book does 'not [fit the] prison literature category.'
He also talked about the importance of naming in his book, as the prisoners on Manus Island are assigned numbers as opposed to names.
'Part of this system is designed to take our identity… They never recognised us as a human. I don't want to use the "animal word" because I love animals.'
Throughout the book, Boochani decided to 'name the people around myself, even the trees… I wanted to do something against the system… I wanted to give them some identity and make them beautiful.'
Williamson also asked Boochani about the collaborative writing process with translator Tofighian.
'Omid,' Boochani said. 'For a year, he was translating my articles… [he] got to know my style. Always we work together in this way, sharing ideas and [being] flexible with each other… Day by day, we got to know each other.'
This meant quite a lot to Tofighian: 'Maybe I need a moment… We are under so much pressure [when we write]. We don't have time to reflect [on the process]. That's the first time I've heard that.'
 Mankiewicz's graphic novel is another long distance collaboration with Boochani, and fills in the picture of his life before the journey that land in on Manus Island.
Just one of many touching moments was when Williamson discussed the meaning of Boochani's first name: 'Beh means good fortune and Rouz means prosperous,' before cautiously asking if there has been any good fortune embedded in his misfortune.
'Everyone,' Boochani said, 'the human being, is lucky. Even in a place like Manus.'
But this, however, was not a sentiment for passivity, and he had many strong, heated, passionate words for the government and its current policies.
'I think six years is long enough. I think it's stupid. [Some people say] If you let them go, the boats are coming. It's a big lie.'
'What is happening here is definitely fascism… [They] keep us here and we've committed no crime. They've killed 12 people… There is not fascism in Australia, but I'm not living in Australia. It is fascism.'
Boochani does not want much.
When an audience member asked him what he wanted to do when he got off Manus, he replied: 'What I will do – I do not know – I'll sleep for a while. I won't do a serious thing. I want to have a simple life – like others.'
Another audience member was given the microphone to ask a question, but instead all he was said was: 'stand if you are against the government locking people up on Manus.'
Every seat was empty and the room was silent, and this was a mirrored by the end of talk, when the seats were emptied once more for a minute-long standing ovation, until the feed was cut, and we emptied out of the room, on our way to the next talk on a sunny Sunday morning.
Snowy Frankland is a Southern Cross University Creative Writing student. Southern Cross University students have reported on Byron Writers Festival since 2010. Find out where a degree from Southern Cross University can take you.
---
Southern Cross University Reporters