---
Kevin Rudd: The left, the right, and the Middleton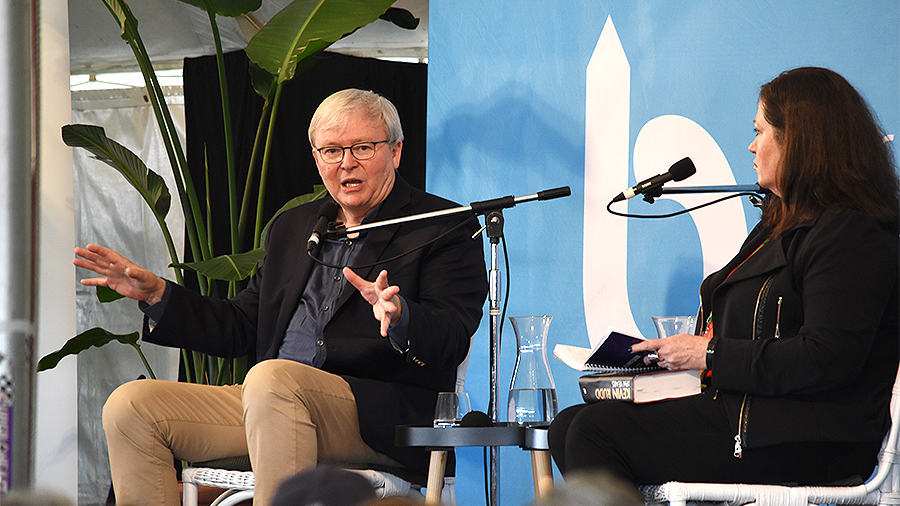 Who better to call in to facilitate a conversation with former Prime Minister Kevin Rudd than a political journalist?
Karen Middleton, chief political correspondent of The Saturday Paper, led a lively, but friendly pas de deux on Friday at Byron Writers Festival.
Rudd made an appearance at the festival to promote The PM Years: Volume 2 of the Autobiography of the Hon. Kevin Rudd.
Middleton kick-started the exchange with some good-natured ribbing. 'Two volumes. What were you thinking?'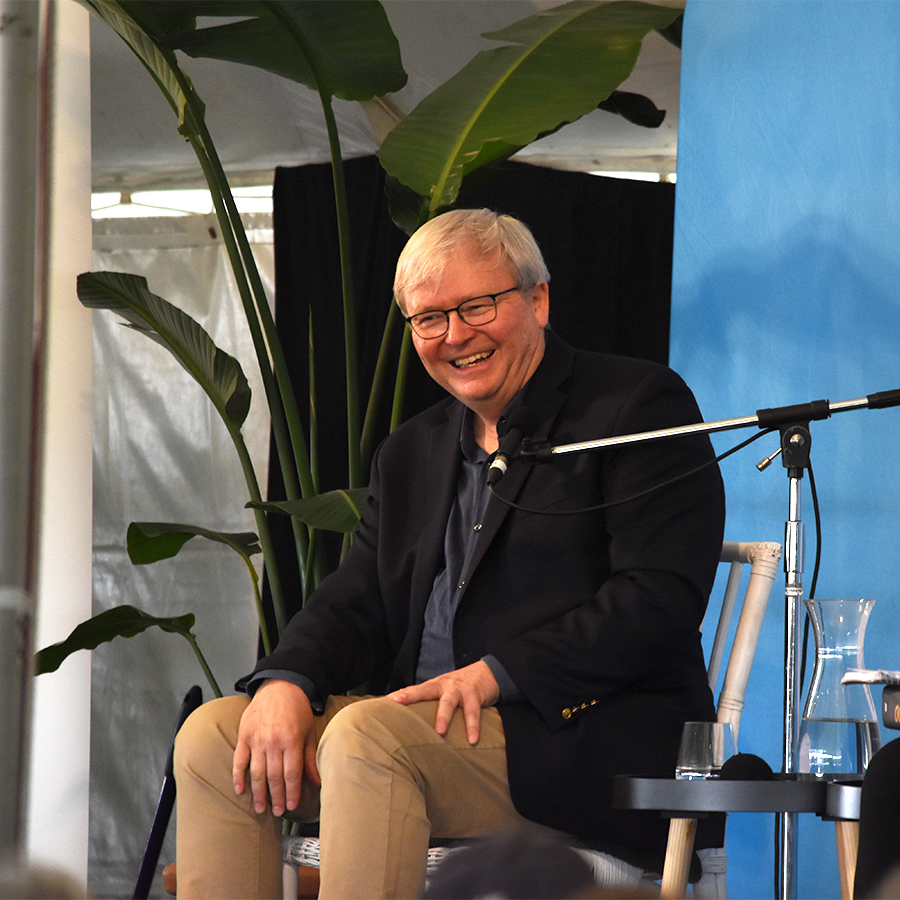 'A lot,' Rudd quipped, earning a round of applause, before adding it was a 'new testament/old testament' type-thing.
'That was a joke,' Rudd clarified. 'Some people think they have a lightning-rod to the divine – I don't.'
It was not difficult to guess the recipient of this barb; what was the first of many throughout the hour-long discussion.
Former Labor treasurer Wayne Swan and former prime minster Julia Gillard are two high-profile targets in his latest volume, but he assured the audience he had done his research, with the book containing over 1400 footnotes.
'I think the points I make are well-documented,' Rudd said, claiming his new book addresses numerous 'opinion-based observations' with his own 'fact-based responses'.
But it wasn't all praise for his own work; he also listed some of his downfalls, citing his failure to properly communicate with the Australian people as his worst mistake politically.
Purportedly, it was this breakdown of communication that lead to his deferral of the Carbon Pollution Reduction Scheme being mis-interpreted as 'Kevin get[ing] cold feet on climate change'.
When Middleton questioned him on his Apology to the Indigenous peoples, delivered to Australia's parliament in 2008, and progress on the Closing the Gap targets, Rudd said 'I can only say I wish I had another term,' before saying a lot more regarding the Coalition.
He described the Coalition's 'third chamber' critique of the Uluru Statement from the Heart as 'utter nonsense', firmly stating that constitutional recognition was only designed to provide a 'national voice' to the Aboriginal People.
His acerbic tongue-lashing extended to the 'butchery administered to the National Broadband Network', the 'cancerous concentration of media coverage' and the 'cancer of rising protectionism globally'.
When Middleton finally decided to address the elephant in the room, asking: 'What happened to Labor at the last election?'
Rudd simply answered: 'We lost.'
Rudd then elaborated by saying, 'rightly or wrongly, the public did not trust Bill [Shorten].'
One of the talk's highlights was when Middleton asked, 'What do you think about your own party voting down a parliamentary inquiry into Crown Casino?'
In response, Rudd metaphorically put on his dancing shoes and showed he could still move with the best of them, talking around the question expertly.
But Middleton would have none of it, and gave the question two more cracks before finally giving up, showing Rudd is still a party man at heart.
The crown jewel of the talk, however, came in an entirely unexpected place.
Whether it is a reflection on the political leanings of the festival patrons, or simply the poor popularity of former Prime Minister Tony Abbott, the loudest applause of the entire talk was when Rudd said, with a reverent smile, 'wasn't it great to see Abbott bite the dust?'
Snowy Frankland is a Southern Cross University Creative Writing student. Southern Cross University students have reported on Byron Writers Festival since 2010. Find out where a degree from Southern Cross University can take you. 
---
Southern Cross University Reporters