---
Kids enjoy big day out with favourite authors
At Byron Writers Festival's Kids Big Day Out on Sunday, there was plenty for kids and parents alike to be excited about.
Pat Davern, author of Alexander the Elephant in Zanzibar and the accompanying musical CD, toured for 20 years with the band Grinspoon before deciding to write a children's book and accompanying musical based on stories told to him by his Father, master storyteller James Davern.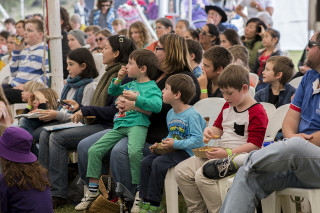 The disc is available from the ABC shop, and includes a catchy soundtrack to accompany Davern's original story of a pink elephant with purple spots who is quite small for an elephant.
Davern remarked that the story not only has a great environmental message, but also that, 'Alexander is different but he can still be the hero of the story'.
Davern also suggested that it is a great alternative to Frozen, which he is sick of hearing about. The sage nods of parents in the audience told me that plenty of parents agree with him.
Kids' day at #byronwf2016 pic.twitter.com/vbCxKjQxOj

— ShereeChristoffersen (@shereechristo) August 7, 2016
Anna Fienberg, Tristan Banks, Kate Forsyth, Peter Canarvas and Damon Young were among other children's and young adult authors entertaining the kids for the Big Day Out sessions.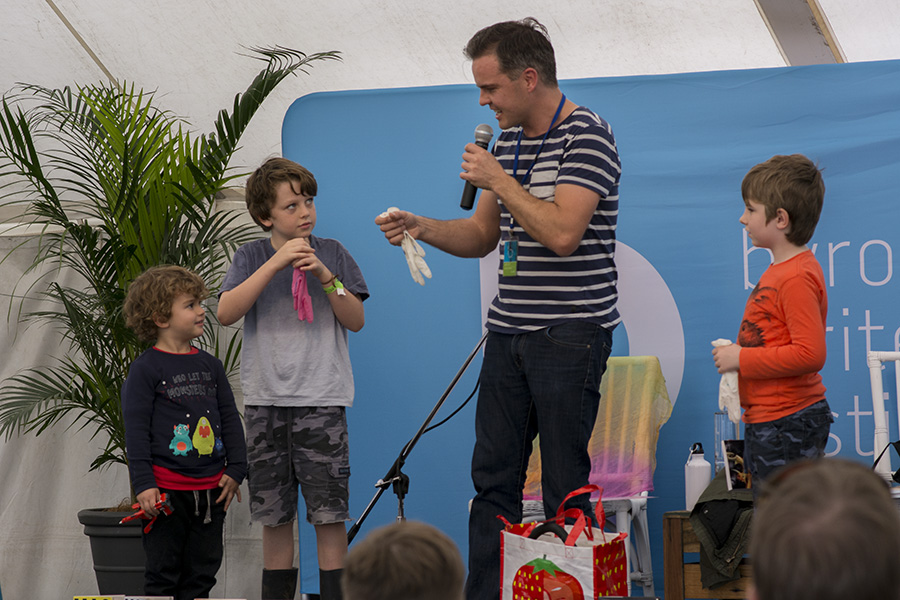 Last session for the Kids Big Day Out feature Nick Falk and Tony Flowers who put on an exuberant show that really got kids in the audience to press their 'imagination buttons' and join in on the fun.
Big laughs with authors Nick Falk and Tony Flowers in an Interactive storytelling experience at #byronwf2016 pic.twitter.com/KogyQ4PZG1

— Megan A. Morgan (@_MeganAMorgan_) August 7, 2016
While Falk narrated one of their stories, Flowers drew illustrations on a white board in his unique, expressive style.
Some very imaginative volunteers creating THE MOST AMAZING story ever with @NickFBooks #byronwf2016 pic.twitter.com/Gqg1Kz5MCG

— Kids' Reading Guide (@KRG_au) August 7, 2016
The dynamic duo have penned and illustrated many successful books together including the How To Beat Genghis Khan in an Arm Wrestle and Billy is a Dragon: First Bite series, and their show was anything but a passive experience.
At one point, as Falk stood on the stage with only one shoe and making faces at the audience, he insisted 'I'm English, we're eccentric!'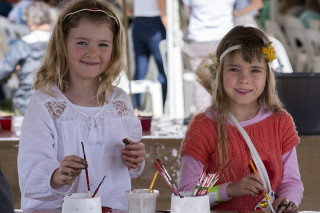 The grand finale was an interactive storytelling activity that allowed the children in the audience to engage in their own creative writing.
The result? A great kid-created story about a Cannibal named Barry in a giraffe onesie.
The sessions were sponsored by The Farm which offered a range of eco-friendly activities for children.
---
Southern Cross University Reporters