---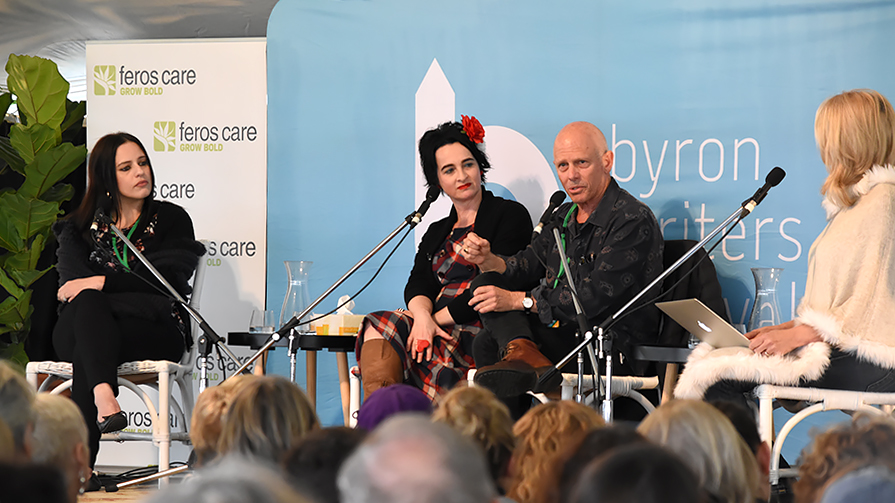 Late on Friday afternoon, journalist Tracey Spicer chaired an intense conversation with screenwriter Amal Awad, social-justice journalist Ginger Gorman, and the journalist-author David Leser on the nuances of the #MeToo Movement, and where to go in a society that still faces so many complicated, interconnected challenges.
What began in 2006 as a grassroots support network for survivors of sexual violence grew into an international discourse in 2017 when it spun out as #MeToo, a social media campaign where women shared their personal experiences of sexual violence.
Leser's new book, Women, Men and the Whole Damn Thing, based on his 2018 Good Weekend cover story, is released on Monday.
It is an account of the firestorm and history of #MeToo and where we need to go from here. Along the way, he critiques his own position in society, his privilege and culpability.
But to begin to understand misogyny, Leser took us back in time to find the roots of the attitude; although unfortunately, it seems you have to go pretty far back.
'Misogyny is the oldest prejudice in the world,' Leser said, although he did elude to a time before its existence, as there were 'no male gods until around 2500 BC'.
Leser described misogyny as a product instituted by Hebrew traditions, and cited a grocery list of verses to support his claim:
'A woman shall belong to a man.'
'A woman is a beast who is neither firm nor stable.' – Sant'Agostino
'A vagina is a temple above a sewer.' – Tertullian
'A woman has fewer teeth.' – Aristotle
Leser argued that the deeply rooted prejudices we can see in these statements still manifest misogyny in many different aspects of society, meaning that there are many different ways to deal with them.
Awad reminded us of the challenges in shifting such beliefs: 'Don't think a  hashtag resistance will change something overnight. These things are deep.'
She also shared some truly heartbreaking stories about her firsthand experiences battling against misogyny, sexism, and behaviour that, frankly, belongs in the stone age.
Such as the noted difference between how Awad was treated as a woman when she wore or didn't wear a head scarf.
The head scarf was a sign to not touch her. But without it, she would be stared at and even grabbed.
Once, when a colleague saw her without her head scarf, he picked her up and hugged her so hard he left bruises on her arm, then cut contact with her when his advances were rebuffed.
At one point in her life, she said Awad 'hated being a woman', describing it as a 'ticking time-bomb of shame'.
Gorman, likewise, told harrowing, disturbing stories about her time as a reporter.
She told how an unnamed man would walk up behind her in the workplace at the ABC and start massaging her shoulders, in plain view of  her colleagues.
If that wasn't enough, she recalled how the same man once said: 'That necklace looks good on you. You know what else would look good on you? Me.'
Ew.
Three years on from the first burst of #MeToo tweets, the panelists are looking for solutions and a direction for the movement to take next.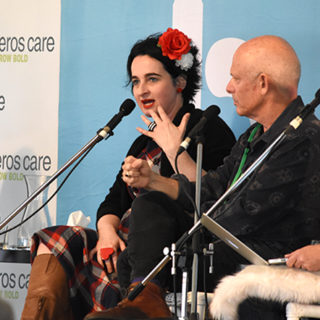 As a screenwriter, Awad has her own ideas on how to effect the much-needed change.
'Can I disarm someone by showing them a different perspective?' she asked rhetorically.
Gorman fights the system by tackling the sphere of online hate, which she has become an expert on, and has advocated for the use of 'radical empathy'.
'And we need men. We need them on our side.'
It was only at this point, pen in hand, that I looked up at a sea of people in the Feros Care Marquee and realised I was only one of a very, very small handful of men sitting in the audience.
I couldn't help but feel the poignance of her comment: 'who is not being brought with us?'
This reflected the stark agreement across the panel that it's time to start listening; listening to any voices that aren't being heard, in order to identify who isn't being pulled forward by the movement.
'Are our views [with #MeToo] so extreme we marginalise people in the middle? asked Gorman.
Yet transgender author and activist, Nevo Zisin asked from the audience if the movement, in seeking equilibrium and moderation, would end up watering down some of the change it wanted to enact?'
'Be prepared for differences of opinion,' Gorman said.  'I don't know when we became scared to disagree.'
Snowy Frankland is a Southern Cross University Creative Writing student. Southern Cross University students have reported on Byron Writers Festival since 2010. Find out where a degree from Southern Cross University can take you. 
---
Southern Cross University Reporters