---
My family: trauma is just the start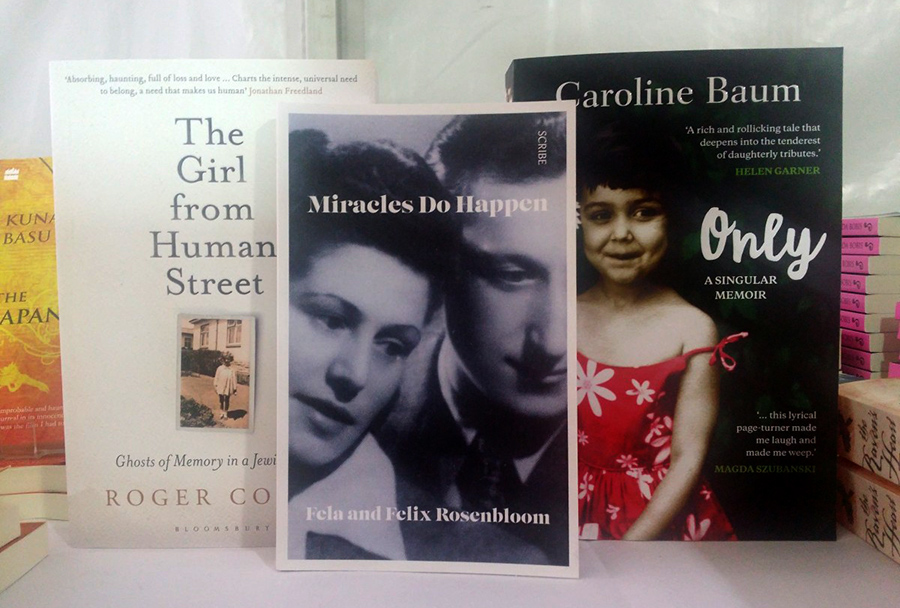 The three authors sitting on the stage shared a common bond. They all grew up with parents who were affected by appalling trauma.
Journalist and author Caroline Baum and Roger Cohen, a New York Times columnist, wrote their parents' stories while Henry Rosenbloom, founder and publisher of Scribe, published the memoirs written by each of his parents.
The panel shared the stories of their parents with a photograph from each of them.
Rosenbloom shared his parent's wedding photograph, taken around 1947, but he is not certain as he never asked. They are looking down and away from the camera, 'unable to look at it,' he said.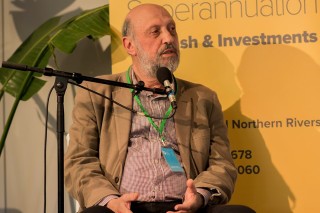 Rosenbloom added that his parents had experienced three miracles.
The first miracle was that Fela, his mother, had survived the Lodz ghetto in Poland, 17 months in Auschwitz concentration camp, and the subsequent death march.
Felix, his father, had fled Poland before the German occupation and escaped to the east. Once there,he lived out the war is a harsh Soviet forced labour camp.
The second miracle was that his father and mother found each other.
'They had grown up on the same street in Poland, only a few doors apart,' Rosenbloom said, and had been even struck up a romance before the war.
The third miracle was that they were able to create an abundant life together in Paris, and then Australia.
The next photograph was of Caroline Baum's parents in an official Lido nightclub– in Paris– photograph, shortly after they had started dating in 1955.
Baum describes her parents in the photograph as displaying the 'fatal gloss of glamour'.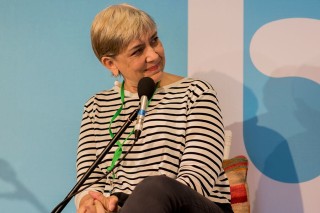 'These are two people who look handsome, and they look privileged, and they look fortunate and they are anything but,' she said.
Her mother, who was orphaned at the age of five when her father shot her mother and then himself, was a Parisian in her late twenties when she met her future husband.
Baum's father, who is a year older than his future wife,  is a Viennese Jew, who at 10 years old was wretched from his family to join the Kinder Transports to England, saving his life.
Her mother hid a terrible secret, for many years, even from her husband. She had her first job interview at the Lido, where the owner had raped her.
Baum's parents would go back there, time after time, without her father being aware of the pain it caused.
Roger Cohen's photograph had been taken in South Africa, where both his parents were born to Lithuanian Jews who fled the Russian pogroms generations earlier.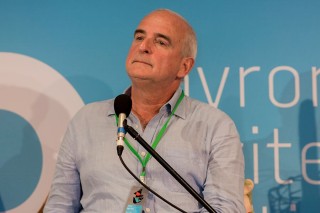 The photograph is of a young Roger standing in front of his mother, at the beach in South Africa, behind them a little distance is his grandfather, the three generations all in swimwear.
His mother loved South Africa and had generations of family there.
Cohen's father, who died just a month ago at the age of 95, hated apartheid. He was a doctor and a world expert on malaria.
'His last job when in South Africa was the Dean of the last surviving residency program for black medical students from the Witwatersrand University.'
When the program was closed, Cohen's father could not stand the 'waste of potential' and moved the family to London.
'Immigration is about hope, but it is also about loss,' said Cohen.
His mother never really recovered and disappeared from his life with bouts of confinement in psychiatric institutions.
These snippets were just the beginning of their stories that can be found in their books, Miracles do happen by Fela and Felix Rosenbloom, Only A Singular Memoir by Caroline Baum, and The Girl From Human Street by Roger Cohen.
Jeffery Clark is a Southern Cross University Bachelor of Digital Media and Communications student.
---
Southern Cross University Reporters