---
Offshore: stories from behind the wire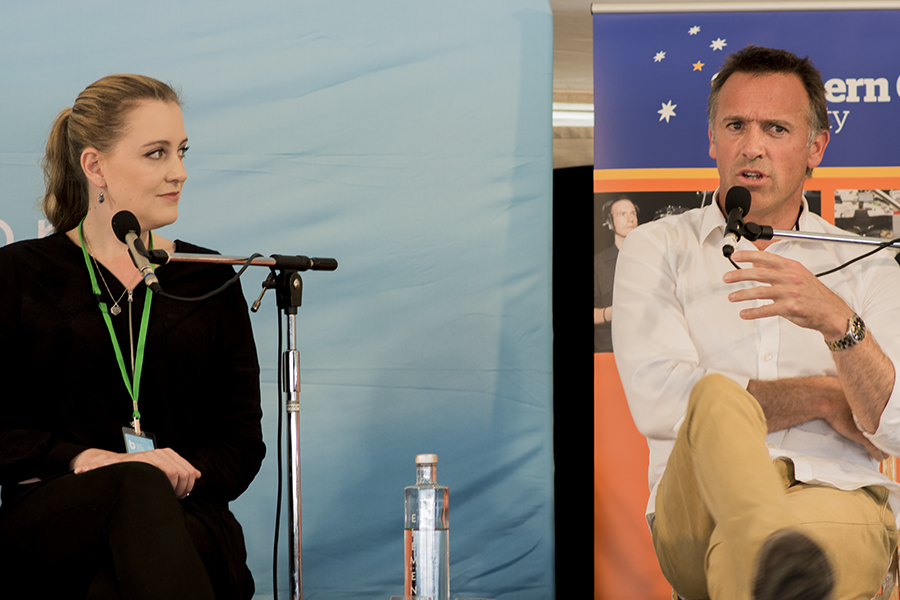 Imagine being held for four years in a foreign country with no idea what will happen to you after those four years end. Where is your family? You do not know. You are trapped behind a wire fence, powerless and voiceless.
This session, featuring Roger Cohen, Madeline Gleeson, and Jock Serong, chaired by Southern Cross University Vice Chancellor Adam Shoemaker was dedicated to 'talking about stories which matter', giving a voice to asylum seekers, and questioning Australia's ethical involvement in offshore detention.
The discussion opened with Serong, author of On the Java Ridge, who pointed out the eerie fact that dystopian political fiction appears to be anticipating reality.
Throughout the session there appeared to be a consensus that Australia's policy regarding offshore detention is shocking and bewildering.
Cohen, a columnist for The New York Times, explicitly expressed his disbelief at the Australian government. He recalled an anecdote of one of his first visits to Australia, during which he was reading an article regarding Manus Island in one of the leading newspapers.
'It just leaped out to me that Peter Dutton was an idiot,' he said.
He said that it was hard to believe that Australia was placing refugees in offshore detention, given Australia's history as a penal colony where the British government sent its convicts to be out of sight and out of mind.
Now, given that Australia continuously promotes itself as a human rights advocate, he said that he felt 'absolutely uncomfortable' by our policy on offshore detention.
'This is a stain for Australia,' he said.
'You cannot use cruelty towards 2,500 people as a deterrent,' he said, which was met by a large round of applause.
Gleeson, a lawyer and Research Associate at the Andrew and Renata Kaldor Centre for International Refugee Law, shared her experience visiting Manus Island.
She said that the physical conditions were bad but the refugees that she spoke to told her that when she asked about the conditions that she was asking the wrong questions.
'What's killing them,' she said, 'is the psychological torture of not knowing what's going to happen to them next.'
Serong, addressing his fictional approach to the issue, said that when you want to vilify people you chip away at their humanity.
To do this you create a nameless group of people and a nameless fear, he said.
Gleeson said that this was happening in reality on Manus Island. The refugees there cease to have names; instead, they are given a boat identification number to respond to.
Gleeson poignantly said that this was having devastating effects on children, who could not understand the question 'what is your name?' They would instead respond with their identification number.
She stressed that this identification system was an Australian practice.
The panel highlighted the issue of having bipartisan support for offshore detention, with Gleeson stressing that individuals should write to their local members and exercise their democratic rights.
Gleeson sparked a passionate round of applause as she spoke about the closing of the detention centre on Manus Island and the future of the refugees stuck there.
'They need to be brought to Australia,' she said, followed by more applause from the audience.
The session concluded with Shoemaker saying that we often ask the questions 'Why weren't we told?' and 'Why didn't we do something?'
We have been told, he said. So what are we going to do about it?
Cloe Jager is a Southern Cross University Bachelor of Media student.
---
Southern Cross University Reporters