---
Postcards from Byron: Ellen van Neerven and Marta the dog
This week in our Postcards from Byron series, Ellen van Neerven, whose new collection of poems Throat has just been released, welcomes us into their world and introduces us to their dog Marta.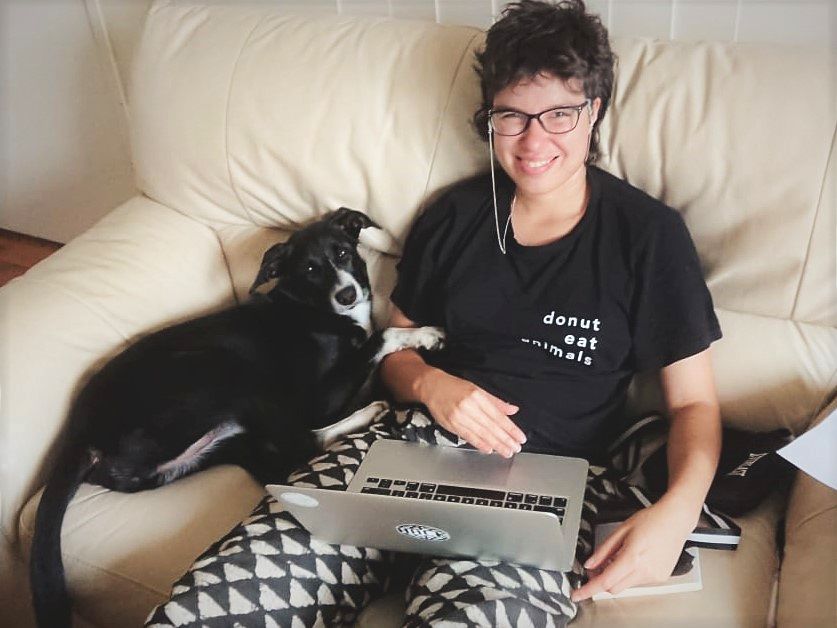 Yo-wah jimbelung
I'm writing to you from my home in Turrbal Country. I acknowledge this Country and Elders all the time especially when I go for my twice-daily walks with my border collie sister, Marta. The advantage of not being able to leave our area is that we have been finding a lot of different walks we didn't know about. Marta wants to add she misses playing with her friends Zoe, Marble and Penny at the off-leash area.
Our whole family got our flu shots today and I'd encourage everyone to go out and get yours. It's a little thing we can do to help relieve our health system. I'd also assure people who are avoiding doctors at the moment that it's very safe to go to your local GP.
My self-care during the pandemic involves singing, colouring-in, meditation, yoga, self-massage and magnesium baths. When it all gets too much, Marta and I fall asleep on the lounge together.
Like many, I'm missing sport but recently the Socceroos posted a video of the 2003 Australia vs England match. It's a classic: Kewell vs Beckham! It was a great night in.
Another thing that's been really fun to do is make playlists. Marta and I made a special playlist you can dance to in your home. This is giving you 'the revolution won't be zoomed' kinda vibes. Hope you like.
Love
Ellen and Marta xo
About Ellen van Neerven
Ellen van Neerven is an award-winning writer of Mununjali Yugambeh and Dutch heritage. They write fiction, poetry, plays and non-fiction. Throat is Ellen's second highly anticipated poetry collection. Their books are available to purchase here from The Book Room at Byron (free same-day delivery within the Byron Shire). Read more about Ellen here.
With thanks

These projects are supported by our friends at the Copyright Agency's Cultural Fund, who are generously funding participation fees for Australian authors, allowing us to re-imagine the 2020 Festival program. Please stay tuned for further news. Thanks also to our long-term funding partner, Create NSW.
---
Byron Writers Festival