---
Rainbow for festival start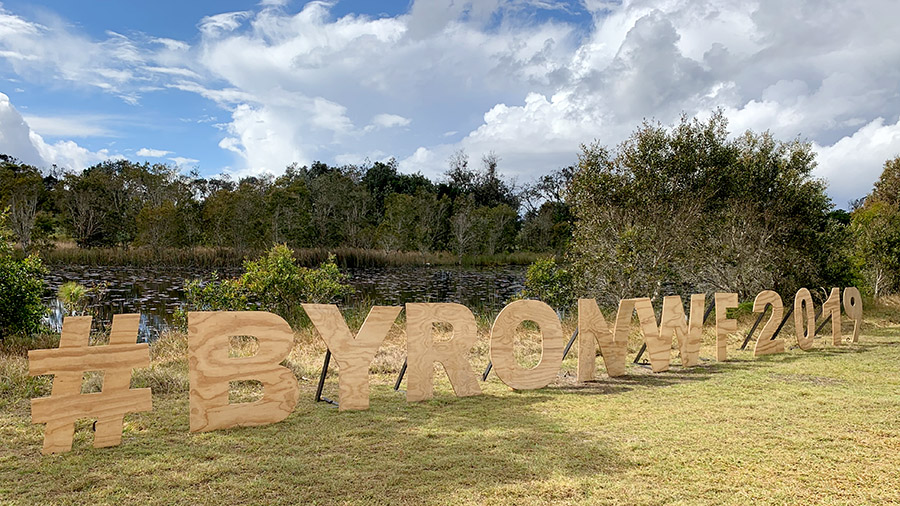 The 23rd Bryon Writers Festival kicked off this morning with a fortuitous sighting of a rainbow and welcome sunshine.
Yesterday's strong weather threat had mostly dissipated to occasional showers and, by start time, an iconic Northern Rivers rainbow had arched over the festival entrance.
With this good omen, the festival began with the warm air carrying the voices of authors and presenters throughout the somewhat damp festival grounds.
However, a truck accident on Ewingsdale Road meant that some of Friday's crowd were caught in a traffic snarl that sprawled for four kilometres on the southbound route into Byron Bay.
Over the next three days, 140 writers and thinkers will gather at the Festival site, on the grounds of the Elements of Byron resort. More than 120 session are scheduled.
This year's line-up includes Iranian-Kurdish refugee and winner of the 2019 Victorian Prize for Literature Behrouz Boochani, live streamed from Manus Island, and bestselling author Markus Zusak (Bridge of Clay).
Politics and journalism is again a main theme at the festival with US-based author and journalist Min Jin Lee (Pachinko), former Prime Minister The Hon. Kevin Rudd (The PM Years), an commentators Leigh Sales (Any Ordinary Day) and Kerry O'Brien (Kerry O'Brien: A Memoir) on panels.
The festival is also hosting 2019 Stella Prize winner Vicki Laveau-Harvie and the 2019 Miles Franklin Literary Award winner, Melissa Lucashenko.
Three-day and Saturday passes have sold out
Sunday's Kids Big Day Out is one of the festival's biggest on offer.
Southern Cross University Reporters are back for their tenth year covering the festival and will publish regular reports on festival sessions here on the Byron Writers Festival blog.
Sarvah Rayner is a Southern Cross University Creative Writing student. Southern Cross University students have reported on Byron Writers Festival since 2010. Find out where a degree from Southern Cross University can take you. 
---
Southern Cross University Reporters