---
The magic of StoryBoard – Inspiring young minds in 2019
It's time to celebrate another hugely successful year for StoryBoard, our travelling creative writing program for young people. Read on for a taste of how StoryBoard engaged young minds throughout the Northern Rivers' in 2019.
In 2019 StoryBoard delivered 165 free events consisting of 24 focus school visits, 67 one-off visits, 68 masterclasses, 2 holiday programs, 4 festival workshops, 2 regional tours and 1 youth mentorship.
School visits remained at the heart of the StoryBoard program. Through fun-filled presentations and workshops, our authors energised those students who already had a passion for storytelling, and inspired even the most reticent writers to put pen to paper.
"I learnt that writing isn't just serious. It is so FUN!" said Evie from Summerland Christian College, "You're supposed to enjoy yourself!"
By taking students out of the traditional classroom environment and into nature to write, StoryBoard created new, exciting settings in which to let the imagination run wild. As teacher Maz Webb, from Nimbin Central School said:
"Sitting in the peace of a tepee, out in the sparkling morning light, writing flows much more easily for our students than in a stuffy classroom. Our kids have free creative space for an hour or two, free of judgement. We love and treasure visits from Storyboard so that we can all be more inspired and creative."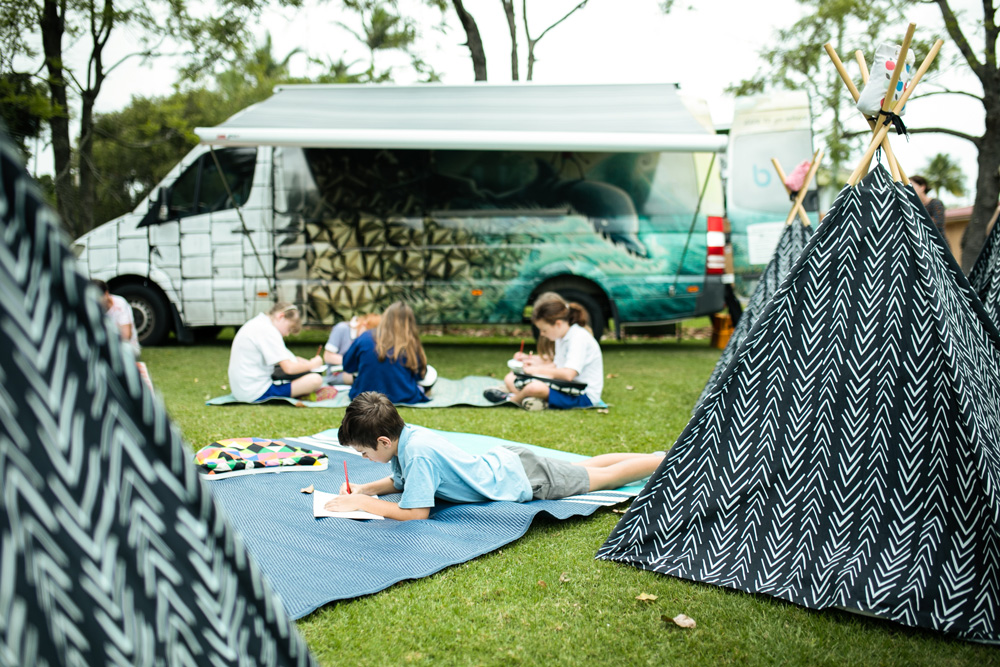 Jessica McCaul from Tuntable Falls Community School agreed:
"From the artistic pop-up classroom to the unusual writing spaces provided, all of a sudden (if they didn't already) students became interested in writing… Wow – you can write books for a job?"
Regular Masterclasses ran throughout the year at Ballina, Lismore and Byron Libraries, giving students the chance to develop their writing and editing skills and work towards a larger project. These sessions culminated in two print anthologies, one online publishing platform, and one podcast series.
Of the Masterclass program, one regular participant, Pearl, said: "I have met other writers my age which makes me more eager to get my work out into the world because I know that there are other people out there who think like me. I get to meet people who are living my dream job, who have had experience."
Once again, we ran the Susie Warrick Young Writers Award, attracting a record number of submissions (61 submissions compared with 16 in 2018). The top 10 stories across two age categories (12 – 15 years & 16 – 18 years) will be included in an Anthology to be published in late December.
We also provided regular and meaningful local work for a core team of ten authors & illustrators, while giving early career authors & illustrators the opportunity to work or volunteer alongside our established facilitators, gaining valuable experience in workshop delivery. We created two casual Workshop Coordinator positions to maintain consistency and ensure we deliver workshops of the highest quality across our program of school visits.
Local author, Tristan Bancks, described the satisfaction he gains from working with young people across the Northern Rivers through StoryBoard:
"When kids see that illustrated StoryBoard bus roll into their school there is a palpable excitement around storytelling, reading and writing. When they meet an author and get to sit in teepees and write outdoors under the bus's awning and then check out the mini-library in the back, they are having a really positive experience around literacy. This is something that many of these kids will remember for a very long time, perhaps forever."
At the outset of the StoryBoard program in 2016, we aimed to reach approx. 11 000 students over three years. We have reached 25, 570 students in this period.
Thank you for your support.
---
Byron Writers Festival