---
Uncle Jack Charles joins Festival line-up!
Jack Charles has worn many hats throughout his life: actor, cat burglar, musician, heroin addict and activist. But the title he's most proud to claim is that of Aboriginal Elder.
Uncle Jack Charles is an Australian legend: survivor of the Stolen Generations, Indigenous Elder, actor, musician, activist and former heroin addict and cat burglar. Now on the cusp of his 76th birthday, he's ready to tell the full story of how he became a born-again Blakfella and one of Australia's best-loved actors.
'I will never forget how reconnecting to my culture helped me find my true path. I saw the blak light and, within that, saw my own presence.' – Jack Charles
Byron Writers Festival is thrilled to welcome Uncle Jack Charles to the 2019 line-up, appearing in conversation with Adam Shoemaker at 12.45pm, Saturday 3 August in the Southern Cross University Marquee. He replaces Stan Grant who is regrettably no longer able to attend the Festival.
His upcoming memoir, Jack Charles: Born-again Blakfella, will be available for purchase at the 2019 Festival.
Don't miss this special one-on-one conversation – get your Saturday tickets today!
---
About Born-again Blakfella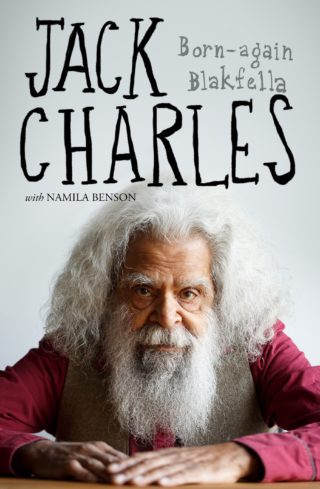 Stolen from his mother and placed into institutional care when he was only a few months old, Uncle Jack was raised under the government's White Australia Policy. The loneliness and isolation he experienced during those years had a devastating impact on him that endured long after he reconnected with his Aboriginal roots and discovered his stolen identity. Even today he feels like an outsider; a loner; a fringe dweller.
In this honest and no-holds-barred memoir, Uncle Jack reveals the 'ups and downs of this crazy, drugged up, locked up, fucked up, and at times unbelievable, life'. From his sideline as a cat burglar, battles with drug addiction and stints in prison, to gracing the nation's stages and screens as he dazzled audiences with his big personality and acting prowess, he takes us through the most formative moments of his life.
By turns heartbreaking and hilarious, Jack Charles: Born-again Blakfella is a candid and uplifting memoir from one of Australia's finest and most beloved actors.
---
Byron Writers Festival