---
Fostering empathy through fiction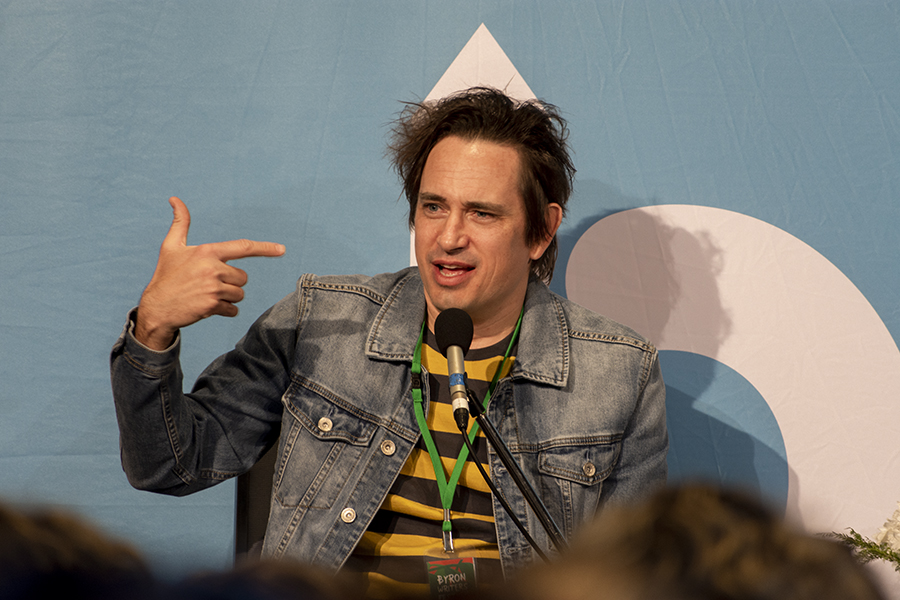 Empathy is 'the ability to share another's feelings and experiences'.
Session chair Nicole Abadee, The Australian Financial Review's books writer, offers up this definition so we are all on the same page for this early Saturday session on how fiction can foster empathy in readers.
Not that there was any disagreement among the panellists.
Trent Dalton, a two-time Walkley winner and author of Boy Swallows Universe, says this is precisely 'what writer's do' in their writing. They get close to people and their experiences and share them with their readers.

Tapping into this quirk of the human heart – to share – makes it 'hard to hate someone up close,' he says.
The Madonna of the Mountains author Elise Valmorbida loves that she 'can finish a book and feel like [she] knows someone' she wouldn't have had a chance to know otherwise.
For Matt Haig, a book is the 'deepest level of connection'. It is like a sort of 'telepathy' that can give you can have a 'deep conversation through time'.
Consequently, when people don't have direct experience of a particular situation or state of being, they can 'suddenly have an understanding of [the] invisible thing' through reading.
For Haig, this invisible thing is mental illness.
Having suffered from depression when he was very young, Haig believes it is possible for a novel to 'empathise with you'.
His new novel, How to Stop Time, follows the pain of Angeria-stricken, Tom Hazard.
Angeria is a condition where the person ages incredibly slowly and as such, the character Tom Hazard believes it is not possible for him to exist without causing pain for others.
The novel stems from Haig's obsession of time, which developed from his '24/7' experience of mental illness which caused time to stretch for him.
Thus 'fantasy,' he says, can be a 'microscope of normal everyday life.'
By posing the extraordinary, such as a 439-year-old protagonist, Haig can impart reasons to keep going through the pain.
As such, Haig attempts to explore the 'dark places to find the solid places of light' in his writing to elicit empathy from his readers around such issues as mental and physical pain.
Valmorbida, on the other hand, is very conscious about how easy it is 'to impose [her] perspective on a character.'
She thus tried very hard to make the protagonist of her new novel – Maria Vitoria in The Madonna of the Mountains –a character devoid of Valmorbida's own values and beliefs.
The novel is set in Italy and spans 27 years from 1923, the year after Mussolini's rise to power, to 1950, after the collapse of the regime. In the story, Maria Vitoria is devoutly religious, unlike Valmorbida, and has no objections to things like arranged marriage.
When researching about this period, Valmorbidafound that most of the information was about 'Mussolini's lover', or 'a freedom fighter', so searching for the history of ordinary people 'felt like treasure to find'.
She chose to focus her novel on the lives and actions of ordinary people because Valmorbida it was a perspective seldom depicted.
'It is very easy to say "oh, if I were in World War 2, I would do this and this",' she said.
But what she wanted was for readers to empathize with the decisions her characters made when 'war was brought to their front doors'.
She wants them to think: if you were really had to face that fear and that institutional violence of a fascist regime,  would you really not follow the rules?
Similarly, Trent Dalton is most interested in why people make such decisions, why they 'choose to be bad instead of good'.
Having 'coughed it from his heart and soul', Dalton's debut novel Boy Swallows Universe draws from the crazy period of his life from when he was four to eight-years-old.
During this time, the love of Dalton's mother's life was the man who showed Dalton fatherly love for the first time.
This man was also a heroin dealer who was sent to prison, along with Dalton's mother.
Also influencing the novel's narrative was Dalton's babysitter, the notorious 'Houdini of Boggo Road', Arthur 'Slim' Halliday, who appears as protagonist Eli Bell's friend.
In real life, Slim Halliday  was the only one who visited Dalton's mother in prison, telling her that they have taken everything from you 'but your love for your four boys on the outside'.
Dalton credits him with keeping his mother alive.
It is this melting of the binary of good and bad people that Dalton attempts.
Having grown up 'surrounded by people who, on paper, were scumbags', and in reality were the people who nurtured and loved him to the fullest, he is well aware of how a person can be both.
His novel thus attempts to open readers' minds to a person's context, rather than just their bulletin heading.
All three writers, in various ways, attempt this broadening of the readers' mind, constructing worlds to help them live a mile in another's life, and hopefully build an understanding of their experience.
Jade Hurley is a Southern Cross University Creative Writing BA student.
---
Southern Cross University Reporters